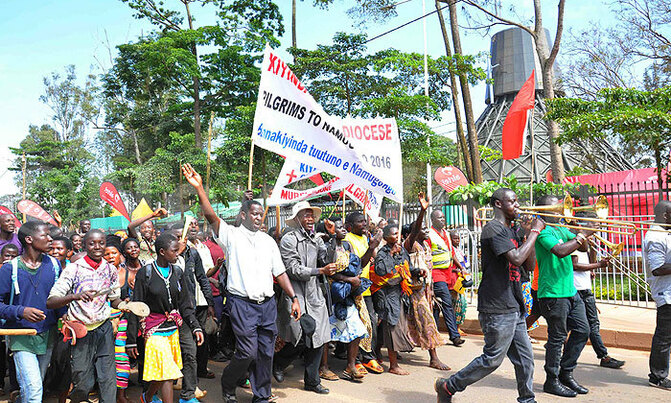 The group sang joyfully and recited prayers during their three-day journey.
PIC: The pilgrims arrived at Namugongo in a jubilant mood. (Credit: Juliet Lukwago)

MARTYRS' DAY: 2 DAYS TO GO

KAMPALA - Pilgrims from Kiyinda-Mityana Diocese, this year's Martyrs' Day hosts, have arrived to Namugongo.

The group of as many as 1,000 walkers was led by Fr Robert Mutyaba, the curate from Kyengeza Parish.

Thousands of pilgrims from various parts of the world are expected to be a part of the annual event this Friday, held every June 3 in commemoration of the young Christian men killed because of their faith more than a century ago.

Other six priests were also part of the group from Kiyinda-Mityana.

They included: Fr. Joseph Mary Mpungu (Kiyinda-Mityana Cathedral church), Fr Moses Kaleebu Wamala (Kyankwazi), Fr Fredrick Luyinda (Mirembe-Maria parish), Fr Edward Ssekimpi (Buyambi), Fr Peter Nsubuga (Katuugo parish) and Fr Achilles Bbaale (Ndibatta parish).
The group was led by Fr Robert Mutyaba. (Credit: Juliet Lukwago)

The team was flagged on Sunday from the cathedral church by the diocesan bishop, Joseph Anthony Zziwa after a Holy Mass he led to bless and wish them a safe journey to Namugongo.

The pilgrims were also joined by a group of nuns from Austria, including Sister Edith Staudinger.

They sang joyfully and recited prayers during their three-day journey.

This year's theme is 'The truth will make you free' extracted from the Book of John 8:32.

Four of the 22 Uganda martyrs including St. Noa Mawaggali, St Matthias Mulumba, St Luke Baanabakintu and St Ambrose Kibuuka hailed from Singo county which is part of the Diocese of Kiyinda-Mityana.
Kiyinda-Mityana last hosted the celebrations in 1994, shortly after Pope John Paul II had visited Uganda the previous year.

And this time again, they the Diocese is privileged to host the event months after the pastoral visit of another pope - Pope Francis.

Kiyinda-Mityana is under the Kampala Ecclesiastical Province and presently covers 25 parishes.

The first bishop was Emmanuel Wamala, now His Eminence Emmanuel Cardinal Wamala. The diocese comprises of the civil districts of Mubende, Mityana, Kiboga, Kyankwanzi, and Gomba.