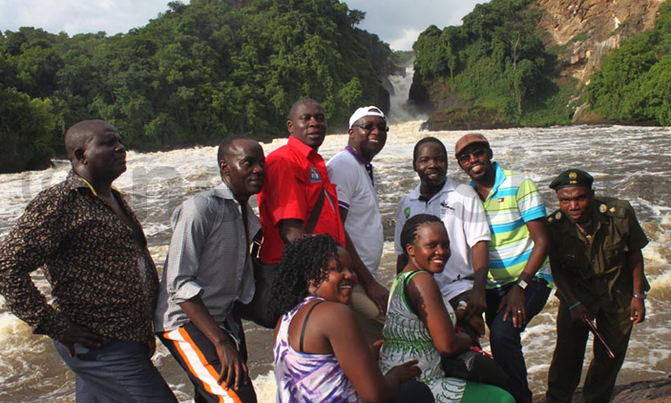 Officials were advised to market Uganda's tourism attractions
President Yoweri Museveni has advised Ugandans to conserve the environment and all natural habitats for the country to keep its natural heritage.
In a message delivered by Linda Nabusayi, the deputy press secretary to the president, Museveni told government communications officers on a tour of Murchison Falls National Park in Northern Uganda that Uganda's wildlife is under threat because the people are poor.
"You cannot maintain an under-developed population and think that you can maintain conservation," Museveni's speech said.
The President emphasized that there are so many threats to elephants and to all conservation efforts. She noted that the President was concerned about the markets for ivory and animal horns, criminality and corruption.
John Oyambi, the principal national officer in the Prime Minister's office said the trip was aimed at enhancing Government departments' understanding of the wildlife industry and its importance.
The trip was organised by Uganda Wildlife Authority, under the ministry of information and national guidance and the office of the prime minister.
Nabusayi advised all the officials to market Uganda's tourism attractions.
The officials were from the office of the President, the Prime Minister, KCCA, Tourism, URA, Directorate of Public Prosecution (DPP), Media Centre, Ministry of Education, Foreign affairs, Police, Bank of Uganda and Public service.
Murchison Falls Conservation Area (MFCA) comprises of Murchison Falls National Park, Bugungu and Karuma Falls Wildlife Reserves. This is where the Nile explodes through a narrow gorge and cascades down to become a placid river whose banks are thronged with hippos and crocodiles, waterbucks and buffaloes.
The vegetation is characterised by savannah, riverine forest and woodland. Wildlife includes lions, leopards, elephants, giraffes, hartebeests, oribis, Uganda Kobs, chimpanzees, and many bird species.