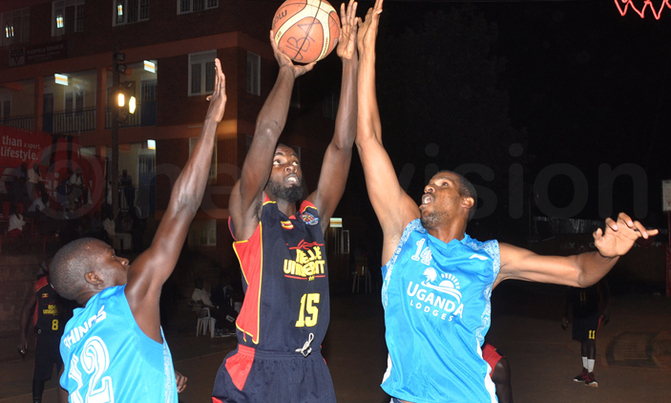 The champions who have turned the league games into training sessions
Magic Stormers 50 Javon Ladies 60
Pemba Warriors 63 Sharing Youth 49
Destiny Phenoms 51 City Oilers 84
KIU Titans 90 Charging Rhinos 31
City Oil are easily sweeping every opposition that crosses their path in the National Basketball League.
On Sunday the Oilers cruised to their fourth win of the campaign with an 84-51 win over the Destiny Phenoms with the usual suspects; Kami Kabangu and Jimmy Enabu leading the shooting with 15 and 13 points respectively.
Andrew Opio (12 pts + 6 reb), James Okello (10 pts + 4 reb) Landry Ndikumana (9 pts + 6 reb) with Daniel Jjuuko and Tony Drilleba scoring 10 points each all finished in double figures for the champions who have turned the league games into training sessions ahead of the Zone V Club championships.
Peter Senfuka (13 pts), Joseph Jewaconga (12 pts), David Lukaire (11 pts) and Amos Okello (10 pts) were outstanding for the newly promoted Phenoms who registered their third loss of the season.
They suffered straight defeats against UCU Canons and Power.
The KIU Titans also finally rediscovered their winning touch handing out a brutal 90-31 beating of Charging Rhinos.
Henry Malinga, Sudi Ulanga, Geoofrey Soro, Mathew Ochieng and Kutai Tong were in devastating form on the day combining for 71 points for the University side's first win.
It was the fourth defeat for the Rhinos who had Joseph Odyek and Daniel Ojoro with 9 and 8 points respectively.
The Pemba Warriors who welcomed back Cyrus Kiviiri from the UCU Canons were also victors over Sharing Youth.
Joshua Etalu and Ivan Enabu led the way for the former champions with 13 points apiece with Caesar Kizito adding 10 for the Warriors who were missing the injured Mark Opio and Phillip Ameny.
Stephan Otoa (14 pts + 7 reb) and Timothy Otim (8 pts + 8 reb) top scored for Sharing who are now 1-3 for the season.