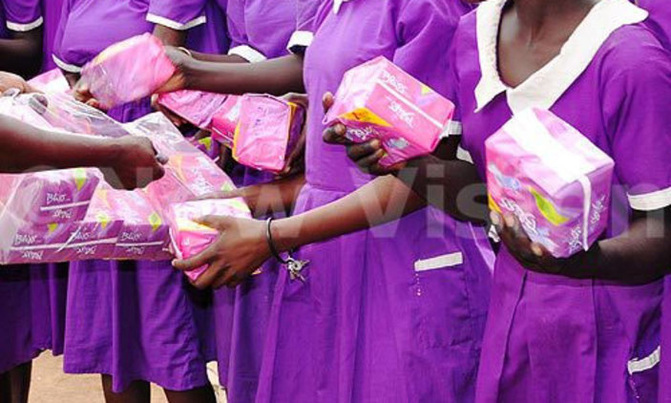 The menstrual hygiene day, May 28, was established to raise awareness to the plight of the young girls and women to break the silence about menstrual hygiene management and to find a solution for the many young girls who are unable to achieve their full potential regarding education due to a mere fact of natural body behaviour.

If you think the worst bit about your periods is the pain, imagine not having sanitary towels to bleed into when that time of the month comes. According to a study from UNICEF, one out of 10 African schoolgirls skips school or drops out of school entirely due to a lack of menstrual products and poor access to proper sanitation.

The menstrual hygiene day, May 28, was established to raise awareness to the plight of the young girls and women to break the silence about menstrual hygiene management and to find a solution for the many young girls who are unable to achieve their full potential regarding education due to a mere fact of natural body behaviour.

It was initiated by the German-based NGO WASH United in 2014. Why May 28? The day was chosen for its symbolism since May is the fifth month of the year, and most women average five days every month. Also, most women's cycle is approximately 28 days. Last year on May 28th, during celebrations to mark the International Menstruation Day, the Speaker of Parliament, Rt. Hon. Rebecca Kadaga May 2015 launched the Menstrual Hygiene Charter, which seeks to promote hygiene and the rights of the girl-child in Uganda.

Theme
Rosette Nanyanzi, a research officer at the ministry of education, science, technology and sports, says that this year's theme: Menstruation Matters to Everyone Everywhere: Father Figures it's your turn, was intended to draw attention to the need for men who play the role of father to get involved in menstrual management issues.

A 2014 research from SNV, Mapping the Menstrual Hygiene Market in Uganda, in the 2012 census, shows that the population of women in Uganda was 18,124,684, 24.5% of whom were adolescents, between 10-19 years (4,440,547). At least 84% of them are rural and assumed to be unable to (sufficiently) access and/or afford sanitary pads. That is an estimate of 3.75 million girls living without proper sanitary care.
And this is mainly as a result of limited access to proper menstrual products. Many of them rely on crude methods like old clothing, pieces of foam mattress, toilet paper, leaves, and banana fibres to manage their menstruation.

All these are unhygienic, ineffective, and uncomfortable, and hardly what can be considered a "solution". Faced with frequent, embarrassing leaks and a susceptibility to recurrent infections, the impact is that millions of girls and women experience their monthly period as something that prevents them from engaging in daily life - whether this is going to school or work, or carrying out their normal domestic responsibilities.

This critical unavailability of sanitary products in developing countries is a major barrier to education for girls of school-going age. The inability to effectively manage menstruation contributes to absences of up to four to five school days each month, equating to as much as 20% of the academic year intentionally skipped, simply due to menstruation.

Eventually many of these girls drop out of school entirely, increasing their likelihood of teen pregnancy health complications and early marriage, and further limiting their future career and economic opportunities.

Furthermore, its noted in the report that although affordability is often mentioned as an obstacle to purchase any sanitary solution, it appears that not so much price, but rather allocation of budget and gender power imbalance within households plays a big role. For illustration: a box of sanitary pads will last for a month and can be purchased for less than sh2,500. Households typically spend many times that much each week for the male head to have his drink.

Percentage using pads
According to SNV's Mapping the Menstrual Hygiene Market in Uganda report, in 2009 about 18% of girls and women used sanitary pads; this number had gone up to about 30% in 2014. There are also several Re usable menstrual pads projects initiated at schools and women groups for "own consumption". The exact market seize of commercially produced re-usable pads is not known, but it is growing strongly as they are on the radar of the donor community.

According to the report, AFRIpads is the largest producer. So as to empower Ugandan schoolgirls to achieve their full academic potential, curbing the high rates of menstrual-related absenteeism, AFRIpads Foundation, established in July 2010, was created to raise money and buy reusable sanitary pads for vulnerable girls in developing countries.

According to AFRIpads Foundation's Willeke Westra, lack of sanitary pads remains a key barrier to the academic performance of the girl-child, her retention in primary school, and her ability to achieve secondary and tertiary education.

"All girls have the right to hygienic solutions for their period. This is why we fundraise money to provide vulnerable girls, who lack the means to buy an AFRIpads Menstrual Kit themselves (for instance in refugee camps), with AFRIpads," says Willeke.

She continues that the AFRIpads Foundation donates AFRIpads Menstrual Kits to underprivileged girls in remote areas, accompanied with education about the use of AFRIpads, menstrual hygiene and sexual and reproductive health.

"This way, girls stay in school and improve their circumstances. For every year a girl stays in school, her future income increases with 10% to 20%. A woman invests 70% of her income in her family. The AFRIpads Foundation invests in girls, because investing in girls means investing in a better future for everyone," Willeke notes.

Dr Yusuf Nsubuga, the director for basic and secondary education at the ministry of education, says that the subject of menstruation is surrounded by silence and had many negative cultural and religious attitudes associated with it.

"Menstruating women and girls are considered contaminated, dirty and impure. Girls in Uganda especially in rural areas suffer stigma," says Nsubuga.
He adds that menstruation was a particularly salient issue because it has a more pronounced effect on the quality and enjoyment of education than did other aspects of puberty. It involves a learning component as well as elements of the school environment and infrastructure.

"These include access to menstrual hygiene materials, latrines, places to change, safe water, sanitation and good hygiene practices like hand washing with soap. Without these the school environment is unfriendly, unhealthy, gender discriminatory and inadequate," Nsubuga stresses.
This year, the ministry of education with partners calls upon father figures to take their turn to support girls and women to manage menstruation. The appeal is intended to reach fathers, husbands, brothers, uncles, religious leaders, cultural leaders, community leaders.

Tax exemption on pads
Recently, while officiating at the graduation ceremony of young women who have been trained in making washable sanitary towels at Days for Girls Uganda in Kamwokya, Ntungamo Municipality MP, Gerald Karuhanga remarked that MPs should be taxed, but not sanitary towels.

"We should be taxed. Yes, I do not mind taxes on my salary and allowances as a Member of Parliament. What should be exempted from tax are the sanitary towels and the materials used to make them. Why should girls continue to drop out [of school] when we can do something about it?" he said.

This is a proposal [tax exemption on pads] that I am going to bring to Parliament," said MP Karuhanga. On whether he will follow up with this proposal, only time will tell. Currently, a package of pads goes for an average of sh3500. An eighteen percent VAT tax reduction would reduce the cost by about sh650. When import duty is taken off as well, the cost of pads may drop to between sh1,500 and sh2,000, from sh3,500.

However, Nanyanzi notes that even if pads cost sh500, there are some Ugandans who still could not afford. Hence the best way to solve the problem is by putting more resources towards training on the making of re-usable pads.

2016 menstrual hygiene management
Nanyanzi says that the celebrations to mark the day in Uganda were held earlier in May because the students were about to break off for holidays.

"We held celebrations at Mackay College with about 1000 students, both primary and secondary. Experiences were shared by children, teachers and community members. We also had partners donating pads to all who attended the event," she says.

She continues that the signing of the menstrual hygiene charter last year was a big commitment by the government towards solving the problems facing females during menstruation in Uganda. Nanyanzi also notes that the ministry is currently training females on making their own pads and has reached over 80 districts.

"A piece of cotton that goes for sh2500 can make 12 pads that can be used all year long," she says.

RELATED

Kadaga petitioned over menstrual hygiene management

AFRIpads; removing bloody barrier to girls education

Sanitary freedom keeps African schoolgirls in class