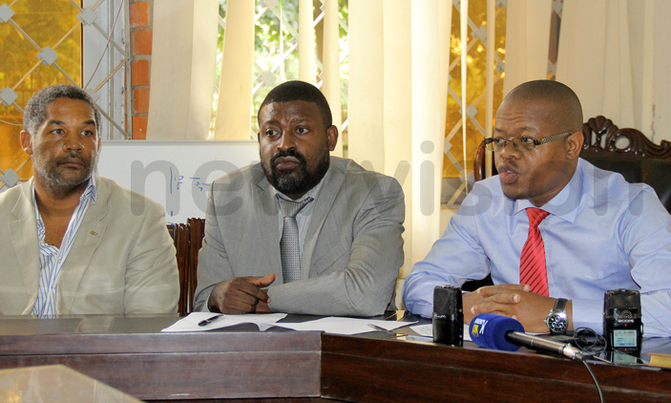 NCS vowed to implement the laws that FUFA disagree with
In a surprise development, FUFA president Moses Magogo has escalated the rift between the local football governing body and the National Council of Sports (NCS), calling for the replacement of its management and vowed not to comply with its regulations.
Magogo made the declaration in a press conference held at Uganda Olympic Committee (UOC) offices in Lugogo on Thursday evening where Robert Jaggwe the Uganda Table Tennis Association (UTTA) chairman was briefing the media on the ruling by Justice Yasin Nyanzi that reinstated him as president.
"All these 2014 regulations are outdated and useless and those individuals pushing them are just a bunch of useless and incompetent people," Magogo raged.
On Wednesday, FUFA in their weekly briefing had informed the media that Magogo was out of the country and his presence took them by surprise.
Magogo vowed not to back down and promised to tackle NCS head-on.
"We can also cause chaos. These guys are jokers and we shall request to have the right people in office," Magogo added.
NCS secretary Nicholas Muramagi when contacted said, "For us we shall go ahead and implement the laws of Uganda. We didn't make these laws."
"We are not going to be diverted from talking sports. If you want to run a national association with the name Uganda, you must comply by June 30th," Muramagi added.
Table Tennis to work with NCS
Jaggwe however maintained that he is answerable to NCS and UOC and he will go on to respect them as they work together for the development of the sport in the country.
"I went to court because of the infringement on my rights and powers as UTTA elected president but I know we are answerable to two authorities which are NCS and UOC," Jaggwe stated.
"Actually I'd be happy if we met with NCS management for a dialogue and see how we take over management and receive the certificate of recognition given to the other faction led by Douglas Kayondo," he added.
Last year NCS disbanded the UTTA executive led by Jaggwe and appointed a normalisation committee which was stopped by court.
However, the committee led by Kayongo formed an assembly and elected an executive.