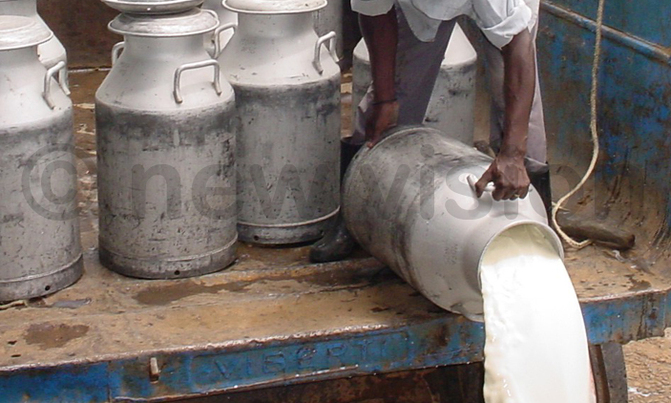 During the dry season a litre goes for between sh700 and sh1,000
Milk prices within the cattle corridor have plummeted by more than half, from between sh700 and sh1,000 a litre at the beginning of the year to as low as sh250 currently.
Farmers say the low prices are very discouraging for the farmers in the corridor that traditionally rely on cattle and milk for their livelihoods and income.
The cattle corridor cuts across Uganda, stretching from Ankole in the western part of the country through parts of Buganda and Lango to Teso and Karamoja in the east.
"The prices are too low at the moment that it even affects our attempts at acquiring equipment to improve on the farms," lamented Dr Apollo Ataho, a Director at Frank Farm in Ssembabule district.
"The farm gate price is now sh350 a litre. Some farmers are selling at as low as sh250," says George Tushemeirirwe, a cattle keeper in Nkoma, Ssembabule district.
During the dry season, especially in the months of July-September, the same litre goes for between sh700 and sh1,000 in the same areas.
There are mainly two reasons why production of milk has increases during the rainy season. One is that because of increased rains, cattle can now easily get water to drink. Water is a key element in milk formation for cattle.
"The rains have also improved availability of grass to feed the animals," Tushemereirwe says. During the dry season, cattle have to walk for much longer distances looking for pasture, hence shading off a lot of energy, which energy is also key to milk production. But when it rains, there is a lot of grass nearby, which means that this energy is reserved, hence turned into milk.
A fixed plan for the prices can save farmers the losses that they incur during the rainy season. However, the inconsistencies in volumes produced affects this plan.
The fact that there is no consistent milk production during the dry season, affects planning and control of prices.
"For one to have a price plan, you must consistently have the product on the market, however if the product gets a pumper production in a period of three months, but then there is a scarcity through the next 6 months, then having a price plan is difficult," says Herman Mugisha, an agri-business consultant.
According to Dr Swidiq Mugerwa, Director of the National Livestock Resources Research Institute (NaLIRRI), Tororo says that livestock farmers in the cattle corridor must start planting grass so that milk production remains constant, irrespective of the season.
"Milk drops during the dry seasons because cattle have got no grass to eat. However, if farmers had planted grass and not entirely dependent on the 'natural' grasses, then they would be able to continuously produce milk," he says.
Grasses that can be planted include Brachiaria Mulato, Napier etc.