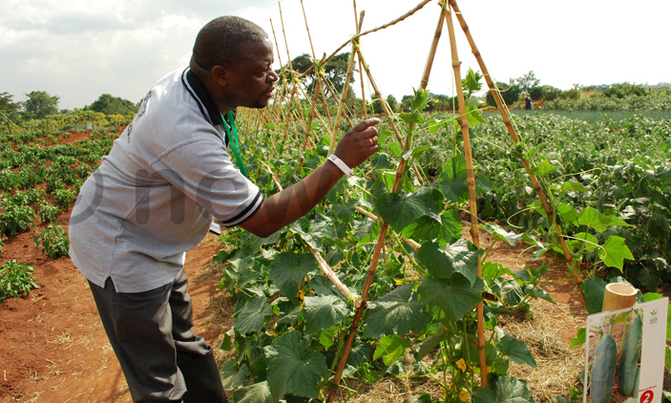 Demand is higher among hotels than individuals
Growing cucumbers in Uganda is gaining momentum courtesy of a growing health-conscious middle class, influx of expatriates from major cucumber consuming countries and increased awareness about its nutritional value.
Although there are no readily available statistics on how much cucumber is grown in Uganda, Patrick Iga, who was Uganda's best farmer 2014, says growing fast maturing crops like cucumber translates into generous income within a short period.
However, according to Iga, Ugandan farmers are yet to embrace the crop.
The main areas where cucumber is grown include the central region areas of Lweza, Gayaza, Kajjansi, Mukono, Bugerere, Nakifuma, Kayunga, Gayaza, Zirobwe, Nansana, Wakiso, Kakiri, Busunju, Mityana, Bulenga, Bujjuko, Masaka, Nakawuka and Mpigi.
Iga says the highly preferred varieties of cucumber are the hybrids that mature between 45 and 50 days. Some of these varieties may yield up to 50kg per plant under good management per season.
Demand
According to Stella Nabatelega, a trader in Matugga, Wakiso district, cucumbers have a fairly high demand.
She is quick to add that demand is higher among hotels than individuals.
"It is on a few occasions that individual customers buy cucumbers worth more than sh1,000. The best buyers are the restaurants and hotels because they have lots of salads on the menu," she says.
Uses of cucumber
Sharon Naluwende, a nutritionist at Mulago Hospital reveals the various uses of cucumber. She says they are a good source of vitamin B and ascorbic acid which do not only boost immune system but are also associated with healthy skin condition.
The vegetable contains other antioxidants such as beta-carotene, manganese and flavonoids known as triterpenes and lignans. The flavonoids and antioxidants have anti-inflammatory properties whereas beta-carotene, a precursor of vitamin A is known for promoting clear vision. Lignans, on the other hand reduce the risk of getting breast, ovarian, uterine and prostate cancers.
Its peel contains vitamin C, about 10% of the daily-recommended quantity for your consumption and the same can be used to deal with skin irritations such as sunburns.
Cucumbers also contain silicon and sulphur, which stimulate hair growth.
When your mirror gets foggy, clear it up by rubbing a cucumber slice on it.
When chewed, cucumber can be used to get rid of bad breath.
It's also believed to be a cure for morning hangover and headache. Here, they are eaten before bed to reduce the intensity of headache and hangover or eliminate them by morning.
Due to its low calorie and high water content, cucumber is considered ideal for the diet for people attempting to lose weight.
Cucumber is 95% water, which helps keep the body hydrated.
It also has a high amount of dietary fibre, which is effective in ridding the body of toxins, aiding digestion and dealing with chronic constipation.
For people living with diabetes, cucumbers contain a hormone required by the beta cells in the production of insulin, which is important in controlling sugar levels.
Researchers also say that cucumbers have a compound called sterols that may help reduce cholesterol levels and a lot of potassium, magnesium and fibre that help to regulate blood pressure.
They also credit cucumber as an excellent source of silica, which is known to help with joint health by strengthening the connective tissues.
Cucumbers are also rich in vitamins A, B1, B6, C and D, folate, calcium, magnesium and potassium and when mixed with carrot juice, they can relieve gout and arthritis pain by lowering the uric acid levels.
What makes cucumbers bitter?
According to Iga, when cucumbers are grown in extremely cool temperatures and limited soil moisture they tend to become bitter.
"Cucumbers are mostly water, so they need regular moisture to do well," Iga says.
Like other crops, Iga says cucumber needs constant pest control for one to get the best yield out.
"You need to control pests and remove any disfigured fruits from the plants. They are a sign of incomplete pollination caused by extreme weather conditions and low soil fertility. One has to feed the plants and water them well," he advises.
With their benefits and fairly good demand in the market, cucumbers should make a good item on your list the next time you choose to grow vegetables.