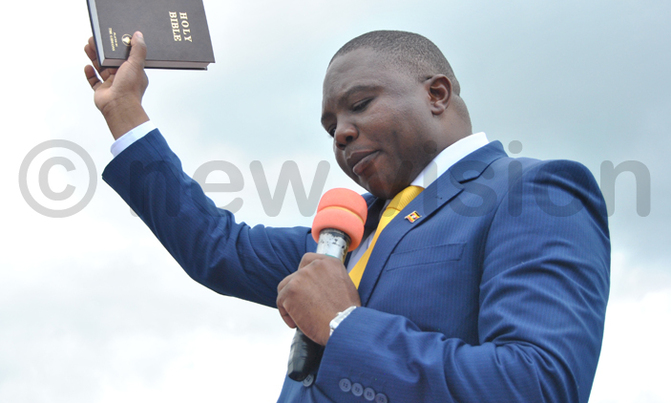 Mutegeki pledged to equally serve both the Bamba and Bakonjo tribes
Ronald Mutegeki the new district chairperson for Bundibugyo has warned against creation of what he has termed as useless clicks amongst fellow leaders.
Mutegeki, defeated Jolly Tibemanya in a hotly contested race that partly contributed to the tribal clashes between the Bamba and Bakonjo ethic tribes both living in Bundibugyo early this year.
The clashes left over 40 people dead, 400 houses destroyed and hundreds of people displaced.
"We must avoid concentrating on useless clicks because they are against service delivery. Join me to form a team of leaders bound together to address the people's issues of service delivery, peaceful coexistence, unity and development for our district" Mutegeki said during his inauguration speech shortly after he was sworn in on Tuesday afternoon at Boma grounds.
He called upon all his political rivals to join hands in the struggle to develop their district and cautioned perpetrators of tribalism within the district to stop.
Mutegeki pledged to equally serve both the Bamba and Bakonjo tribes saying that they both voted for him.
Elias Mugamba the district chief administrative officer tasked the district technical staff to use the new leadership to improve on service delivery.
"We now have a new council for the district, as technocrats our work is to serve all the people of Uganda equally and to implement all government programs in each and every part of the country without any discrimination. I don't want to hear cases of divisionism and in-fighting again" Mugamba said.
Jane Alisemera a commissioner from the ruling National Resistance Movement (NRM) party called upon the Obusinga Bwa Rwenzururu and the Obudinghya Bwa Bwamba cultural institutions to avoid discrimination.
"Discrimination is what has caused war here in Bundibugyo. The cultural institutions here must know that none of the tribes is a refugee here and that we are to stay forever" Alisemera said in her speech.
Defense Minister Crispus Kiyonga who was the chief guest asked the new district leadership to prioritize education and production.
"Cocoa growing has greatly transformed Bundibugyo district but our people need to be guided so that they invest the money they get from cocoa in educating their children for a better future" Kiyonga said.
Kiyonga urged the district leaders to preach peace and reconciliation wherever they go on different forums.