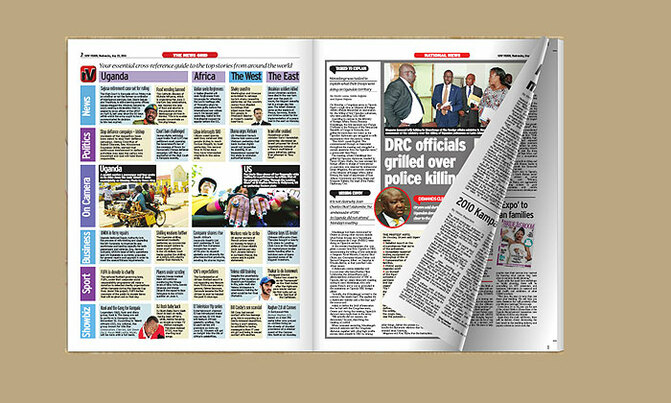 You just can't fail to find what to chew on in today's edition of the New Vision.
Good morning, it's a warm Wednesday morning and a quick glance at what's in today's daily . . .

The New Vision again leads with a follow-up on a story we've seen unfold over the past few days. DR CONGO ENVOY GRILLED OVER UGANDA POLICE KILLING.

According to sources in the foreign affairs ministry, the Congolese envoy to Uganda faced a rough time as ministry officials demanded an explanation for the killing of four Ugandan policemen who were patrolling Lake Albert.

"... She struggled to answer questions ...," the source told New Vision. Details on page 3. The photos of the four policemen are also there.

There is also a list of 140 prison officers promoted as well as pictures of district councils taking oath. Some struggled at it, if you've watched local TV lately.


BUGANDA CRISIS: 50 YEARS ON . . .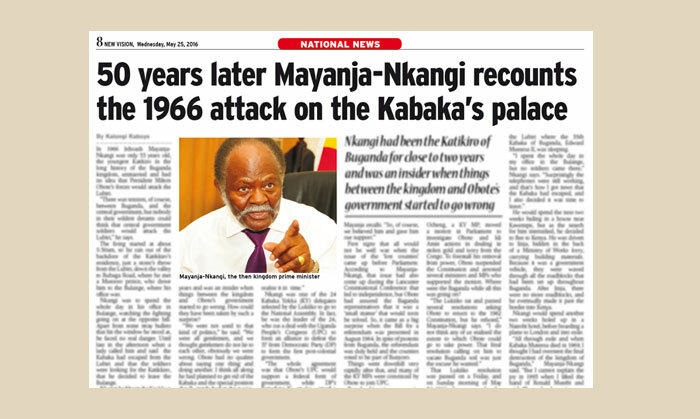 On Tuesday, Buganda kingdom marked 50 years since the government army's attack on Kabaka's palace in 1966. That time, Jehoash Mayanja-Nkangi was 33 years old, the youngest Katikiro in the long history of the monarch, unmarried and had no idea that President Milton Obote's forces would attack the Lubiri.

He turns back the hands of time and recounts the events then. Interested? Page 8 is where you should find this.


LUKWAGO 'NOT INVITED'

Meanwhile, Kampala Lord Mayor-elect Erias Lukwago is at it again. He is accusing technocracts at KCCA of not inviting him to the East and Central African Cities' Development Forum.

What's this forum about? When is it taking place and why? Details in today's New Vision.


OPIYO'S LETTER
Opio Oloya, who resides in Canada, writes a letter directed to works and transport minister Eng. John Byabagambi. And the gist of the matter is quite clear. Flip to page 16.


SPORTS AND EDUCATION

So does engagement in sports help improve your grades at school? Yes, says research. But much as there's a proven link between exercise and academic success, close to half of Uganda's urban schools do not have playgrounds.
Take a plunge into the deep end of this comprehensive article that this week's education pullout Mwalimu leads with and goes on to explore.


REGIONAL: LIRA VENDORS KICKED OFF STREETS, ELDERS' GRANT IN KAMULI

You might also be interested in knowing what's happening in other parts of the country. In Lira, the municipal council has evicted over 200 vendors and demolished their structures in a bid to force them to enter the new market.

And in Kamuli, the Speaker of Parliament, Rebecca Kadaga, was there for the launch of the rollout of the Senior Citizens Grant (SCG). Details on page 29.


UNITED STATES OF AFRICA?

Today is Africa Day. The main purpose of the day is to achieve a united Africa. David Lumu explores the possibility of achieving the dream of a United States of Africa as the founding fathers of the Organisation of African Unity had envisaged.