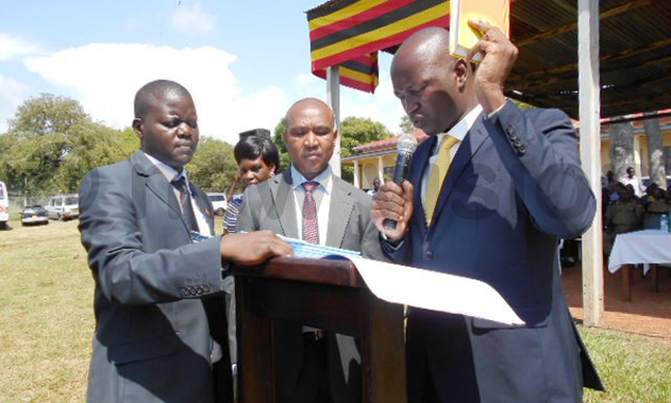 He also urged the leaders to desist from corruption
Politicians from Jinja district have been cautioned to put aside their political differences and concentrate on serving people who elected them into power.
General Kahinda Otafiire the minister for justice and constitutional affairs while addressing councilors and during the swearing in of Titus Kisambira as the new Jinja district chairperson on Monday, warned that its high time those who didn't go through in the concluded general elections to work for their colleagues.
The ceremony was conducted by John Frances Kaggwa the Jinja chief magistrate at Busoga Square. It was attended by lands minister Daudi Migereko, Joseph Muvawala the Busoga prime minister and Members of Parliament.
"Forget the political differences and work as one. Those who failed should support the elected leaders. Also put aside your party differences to have a better Jinja," he cautioned.
The minister noted that since Kisambira has taken oath the welfare Jinja was upon him.
"Don't only be responsible to your family but you must learn these people because they are now your responsibility too. Their welfare is under your custody," he said.
He urged the chairperson to desist from corruption saying most leaders use their offices to promote the vice which greatly affects development in local governments.
He told the chairperson that incase of challenges he should not fear to consult.
Migereko noted that Jinja is soon becoming a city and that leaders should lobby for investors for investors to industries which will help supplement on youth employment.
"Jinja very soon is going to be a city but there is nothing much on ground. We expect the new leadership to lobby for investors who will be able to construct industries," he urged.
He said he directed his ministry to have special arrangements to demarcate the city boundaries adding that so far they have faced some challenges in rural areas which they want to be part of the city.
Muvawala the prime minister and also head of the National Planning Authority said the district has to move to Kagoma to pave way for a city.
"It's time for the district to move and get its permanent home. If you want land in any part of the district am ready to allocate it," he said.
He called upon people to be hard working as a way of fighting poverty while Kisambira pledged to work with all stakeholders and fellow politicians.
After the function a special council meeting was called for where Michael Musana Nyende was voted speaker and Fazira Kawama the deputy.