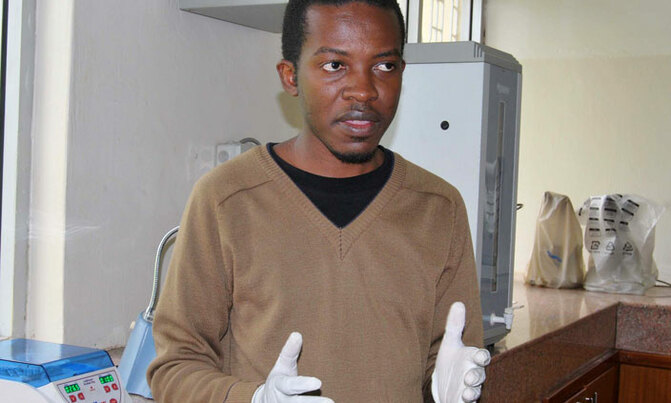 The recent breakdown of Uganda's only radiotherapy machine has even increased the frequency of the cancer talk.
Although cancer has been part of us for a long time, the deadly condition has become loudest in conscious of many Ugandans in recent times—probably more than ever before.

With high profile people such as Abel Dhaira, Rosemary Nankabirwa, Francis Bbaale and Dan Kyazze succumbing to various strands of cancer, and of recent, and the plight of double cancer patient Carol Atuhaire, more people in the country are talking about cancer.

The recent breakdown of Uganda's only radiotherapy machine has even increased the frequency of the cancer talk.

In the midst of all this apparent gloom, a bright shining light is slowly emerging in the country. From the confines of the incubation laboratories at the Uganda Industrial Research Institute, Kamya Samuel, a 27 year is working towards getting cheap and yet quality drugs to Ugandans—using a landmark technology.

The young biochemist, a graduate of Makerere University says he has innovated a technology; the Membrane Coated Carbonized pellet (MCCP) technology, that he says can be used to produce drugs to treat certain kinds of cancer at a cheaper rate than what the market offers currently.

"This technology creates a synch, you have organisms which are producing a certain compound, and when it reaches a certain level, it stops them from growing and even kills them," he explains

"This technology keeps taking away whatever is produced, essentially creating a vacuum, which this organism has to fill up. In the end, you find that you have pushed it to produce more than it would have produced in the normal modes of growth."

Through his startup KessDynamic, Kamya wants to revolutionize biopharmaceutical industry by making cancer drugs that that costs $2 a dose for a similar one that goes for $15 currently.

In the laboratories at the Uganda Industrial Research Institute, Kamya says he has developed drugs which treat among others, blood cancers or leukemia.

Funding challenge
So what is stopping Kamya from going big? Money. Kamya needs $750,000 to constructs special labs to develop clinically viable drugs, which will ultimately, be fit for human consumption.

"I need funding to build the level two biochemistry labs, where I can produce drugs that are fit to be used for medical applications. At the moment, the drugs we have are not yet fit for clinical trial, which is why I need the funding," says the former student of Jinja College.

Kamya has sought audience with the powers that be—including ministers and other high ranking officials in the establishment to no avail. His efforts to get assistance from the Presidential Initiative on Science and Technology have also not been successful.

The young innovator and entrepreneur is not sitting back and letting his challenges bog him down. He is trying to explore crowdfunding ways to get money to develop at least one of his drugs further until it is fit for human consumption.

Crowdfunding is a method of raising capital through the collective effort of different people including friends, acquaintances and even investors. This approach is becoming increasingly common in the developed world, and is an effective tool for start-ups, like KessDynamic, to pull together resources.

"For every dollar that someone contributes, a dose will be produced. This in the end will be made to cancer patients for free; this will be my way of giving back to the people," he says.

"I want to have a future where people can afford drugs. Your brother, mother may one day be a victim of cancer, wouldn't it be nice if there was a cheap drug that they can use?"

Will Kamya get the financial backing to make arguably Uganda's first drug?