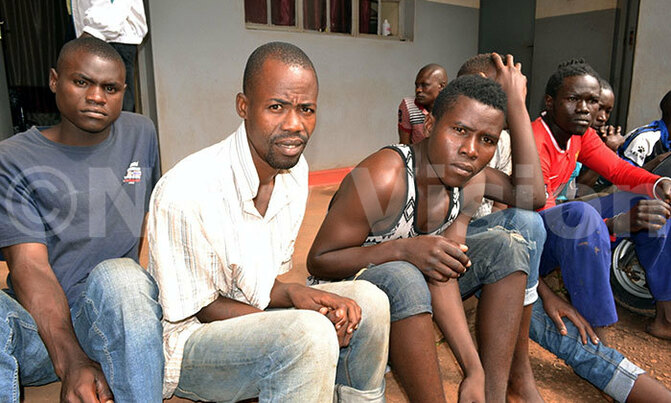 It is reported the group at times use force and inflict injury on victims that try to resist.
KAMPALA - Police in Kampala have arrested as many as 35 suspected thugs notorious for terrorizing city dwellers during and after working hours.

The arrests followed a week-long joint operation carried out in key identified spots including; Makerere Kivulu, Makerere university, Kigugube, Kisenyi, among others.

The move followed complaints from several people of a group of men who always steal from unwitting commuters on their way back home from work and in the university, especially in the evenings.

The suspects are said to have been snatching phones, necklaces, laptops, bags and other items they could get hold off.

It is reported the group at times use force and inflict injury on victims that try to resist.

Some 25 suspects are detained at Wandegeya Police Station and 10 at Kampala Central Police Station.
Some of the criminal suspects tried to hide their faces as they were paraded at Central Police Station. (Credit: Ruth Nasejje)

Police said some of the suspects have been posing as Makerere University students with fake IDs, which they have been using to access the university premises and rob students' properties in lecture rooms and halls of residence.

The Kampala Metropolitan Police spokesperson, Patrick Onyango said that most of those arrested allegedly belong to the renowned notorious city criminal gang 'Kifeesi'. The suspects are between the age 17 and 30.

Onyango said others have been operating mainly around Mini Price, Kisenyi and Shoprite especially targeting people after work.

They are to be charged with theft, being in possession with stolen properties while others will be charged with rogue and vagabond.

Wandegeya Police Division Commander, Moses Nanoka, said some suspects were found with students' laptops and phones around the Makerere University main building at the time arrest.

"It has been a week-long joint operation. Those we arrested early in the week were charged with simple robbery at Law Development Centre Court in Wandegeya and remanded. These ones will also be taken to court next week to be charged," he said.

Meanwhile, Onyango said similar operations will continue to get rid of the 'Kifeesi' and other criminal groups in the city.