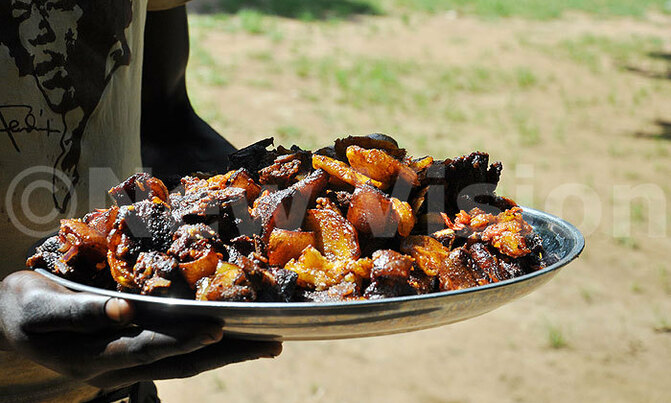 There is this eatery called Television. You'll have to sit under a treeshade as you wait for your order.
PLACES & FOOD

Hungry? Here's what could get your taste buds all dancing in anticipation . . .

After a tedious drive from Gulu to Soroti, we all want a health break before embarking on work in Toroma, Katakwi and Bukedea. For old time's sake I suggest we try out a tree shade eatery called Television located four miles on your way to Mbale.

"Karibu [welcome]" coos chef Pauline Alonyo, while sitting by the firewood stove and sizzling pieces of pork in the pan.

"What will you have the pork with? We have deep fried chips, bananas, avocado and steamed cassava."
We make our order and retreat to be treated to some akogo (thumb piano) music.

Twenty minutes later, 2kg of coffee-brown pieces of pork for five of us is delivered on a generously wide pan although I can't say that everyone waits for it to reach the table. On the side are strands of cabbage and slices of tasty avocado. Oh, and some carrots as well.

The meat is nicely spiced too.

A balanced diet, of sorts, you could say. What with beers, tot packs of all tribes and mineral water to wash it all down!

Television management say you can sip a beer cooled in the pot or refrigerator - the choice is exclusively yours. The price is the same.
Sometimes, it's hard to wait for delicious food to get to the table. Same thing happened here. Oops!

Oh, and by the way, don't bother with the fork that I mention in the title - it's only for show (wink!). Let your fingers enjoy the heat!

What's more? At Television, the trees whisper encouragement to diners to empty their wallets and plates whenever the wind blows across our faces.
Imagine the fresh air under the tree! By the way, a few minutes after this picture was snapped, that tray you see was left with nothing but bones.

Most dinners waddle back to their cars belching in Ateso, Kuman and English. Utukwi and Wao are heard very often. It is obvious management does not usher folks away asking them to come again.

Instead it is the diners to say under sighs and belches: "I will be back."

The place is variously called Corner Ekayu or Television and has become popular with diners in Soroti town. Families, business associate and lovers stocking the embers of their affection love it there. Come Sundays and it is a must-go after Church.

So, what are you waiting for now?