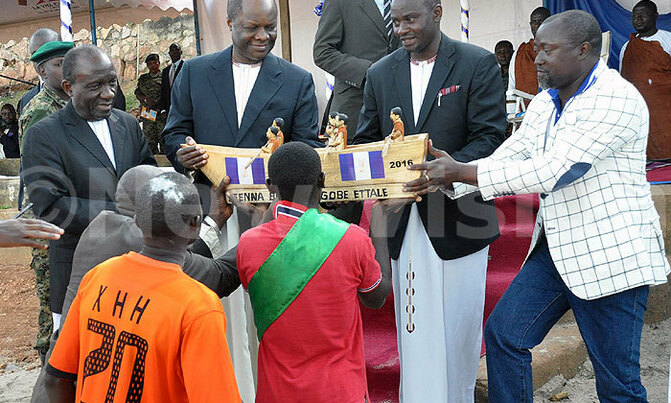 Bugerere county edged out Kyaggwe by 5 points to win the annual rowing event.
PIC: Kabaka Ronald Muwenda Mutebi presents the winners' prize to Bugerere County team captain Geoffrey Odaga in the presence of Buganda Sports Minister Henry Ssekabembe and organising committee chairman Ben Misagga after the Royal Regatta race at Munyonyo on Saturday. (Credit: Michael Nsubuga)

TOP FIVE COUNTIES

Bugerere - 195 points

Kyaggwe - 190

Ssese - 180

Butambala - 175

Mawogola - 95

Buganda Kingdom minister for youth, sports and recreation Henry Sekabembe wants the Annual Royal Regatta organized by international standards.

He said this at the closing ceremony of this year's rowing event which was graced by the king of Buganda Ronald Muwenda Mutebi II.

Ssekabembe said he sought the services of experts from the US, Britain and Kenya for this year's gala and will build on that for future competitions.

"We believe Buganda Kingdom can raise this sport to international standards. The experts from US, Britain and Kenya helped us to design this course and are willing and ready to give us a hand in the next event," the cultural minister told thousands of people who turned up at the event.

Buganda kingdom officials and politicians alike attended.
Kabaka Mutebi waves the the huge crowd that showed up for the sporting event

Bugerere county won the Saturday event with 195 points, edging out Kyaggwe by 5 points at the Kabaka's landing site in Mulungu, Munyonyo.

Despite coming second in the opening sprint race, Bugerere came first in the 10km race which went around the Bulingugwe Island with Geoffrey Odaga, Gideon Mugerwa, Mande Makanga, Fred Mugisha and Ochen Odero handing them the victory.

Led by Captain Geoffrey Odaga, the victors who also won a bull, picked their trophy from the Kabaka who was also enjoyed a boat cruise skippered by Gabunga Zzikwa Mubiru IV.

Kyaggwe came second with 190 points while Ssese, Butambala and Mawogola were placed in the third, fourth and fifth positions respectively. Eighteen counties participated in the regatta.
Kyaggwe skippers in action
Bugerere skippers had to dig even deeper to win

The event was also spiced up by musical performances from top artistes including Bobi Wine, Winnie Nwagi, Mesach Ssemakula, Dr. Hilderman and several upcoming ones.

The two-day event at Munyonyo, Makindye Kyadondo County was held under the theme "Ekitiibwakya Buganda: n'Ennono y' Empingu"(Reclaiming Buganda's heritage through water sports).

The main objective of the regatta was to celebrate the revival of water sports and its associated legacy in Buganda Kingdom.

Others include creating awareness and demonstrating the recreation and Olympic potential of water sports, promote spirit of fair play, open up opportunities for individuals and corporates and initiate the process of developing the Kabaka's landing site.
Ugandan singer Mesach Ssemakula entertained the crowd at the sporting event