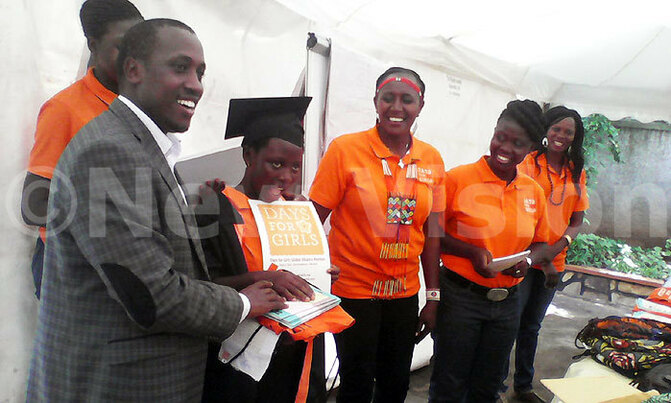 "Some schools do not even have latrines and issues of sanitation remain a challenge."
HEALTH & EDUCATION

"We should be taxed. Yes, I do not mind taxes on my salary and allowances as a Member of Parliament. What should be exempted from tax are the sanitary towels and the materials used to make them. Why should girls continue to drop out [of school] when we can do something about it?"

Those were the remarks by the Ntungamo Municipality MP, Gerald Karuhanga as he officiated at the graduation ceremony of several young women who have been trained in making washable sanitary towels at Days for Girls Uganda in Kamwokya, Kampala.

The organization hopes to make the fresh graduates ambassadors of menstrual hygiene management among their rural counterparts.

Karuhanga decried the high dropout rates of girls in schools due to menstruation.

A 2013 study by Build Africa, a non-governmental organization, revealed the alarming statistics and impact this issue has on girl child retention in schools and completion.
MP Karuhanga displays a reusable sanitary pad at the graduation ceremony. (Credit: Carol Natukunda)

On average, of the 80 days allocated to a school term, 29.7% of the adolescent girls said they miss a minimum of four days per cycle, the report said.

This also includes examination days, important class presentations and the introduction of new topics. Another 24.3% of the girls spoken to admitted to being stigmatized whenever they soiled their uniforms and as a result, they opt to stay at home until after their period.

"This is a proposal [tax exemption on pads] that I am going to bring to Parliament," said MP Karuhanga.

"Some schools do not even have latrines and issues of sanitation remain a challenge. We need to find solutions to enable our girls stay in school."

The Days for Girls country director, Diana Nampeera, said they use locally available materials to make washable menstrual kits which are affordable by underprivileged girls.

"These pads last two to three years with proper care. We combine our training with reproductive health seminars.

"This is a great way to make in the topic of menstrual hygiene fun; yet at the same time, a hands-on activity," Nampeera told Saturday Vision.