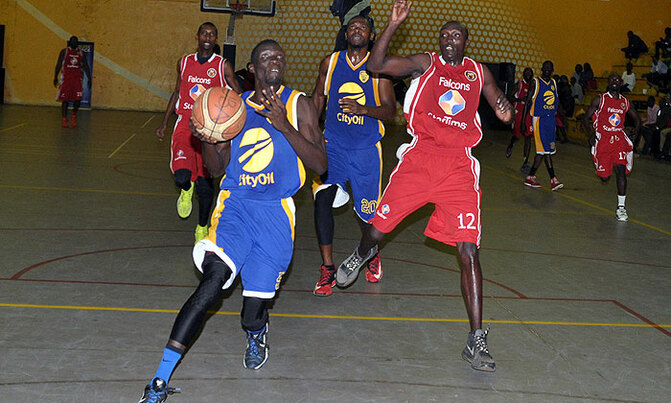 Oilers' Jimmy Enabu scored a game high 25 points for the defending champions.
BASKETBALL LEAGUE

Friday results

Javon Ladies 41 KIU Rangers 36

City Oilers 67 Startimes Falcons 44

Sunday at Lugogo:

Women

UCU Lady Canons v Nkumba Lady Marines 10am

A1 Challenge v Magic Stormers (4pm)

Men

Sharing Youth v Destiny Phenoms (12pm)

Charging Rhinos v UCU Canons (6pm)

Ndejje Univ. Angels v Pemba Warriors (8pm)

After their 67-57 loss to Ndejje last week, StarTimes Falcons captain Stephen Omony said they didn't like the losses but weren't worried because it was early days of the FUBA league.

But their 67-44 loss to holders City Oilers must surely be a concern for especially their fans who witnessed a third defeat in a row for the six-time champions.

Oilers' Jimmy Enabu scored a game high 25 points for the defending champions as they registered their third win of the season.

James Okello and Kami Kabange added 15 points and 10 points plus 9 rebounds respectively for the champions who are gunning for a quadruple.

Stephen Omony, despite being not at his shooting best on the day, managed 15 points and 7 rebounds with pointguard Joseph Ouma adding 14 for the Falcons whose next game is against Our Saviour next Friday.

Earlier in the game, Falcons had matched the champions but made costly turnovers from which Jimmy Enabu punished them most.

Newly promoted side Javon Ladies registered their first win of the campaign by shocking KIU Rangers 41-36.

Sandra Asiimwe and Ruth Atuhairwe scored 13 and 12 respectively for the newcomers who also out-rebounded the Rangers as they lost their third game in a row.

KIU regular scorers Florence Nanyonga, Aisha Nakabuubi and Irakoze Aurore were limited to 22 point s between themselves.

On Saturday (today), the Ndejje University Angels with already two wins in the bag take on Pemba Warriors who have won one of their two opening games.