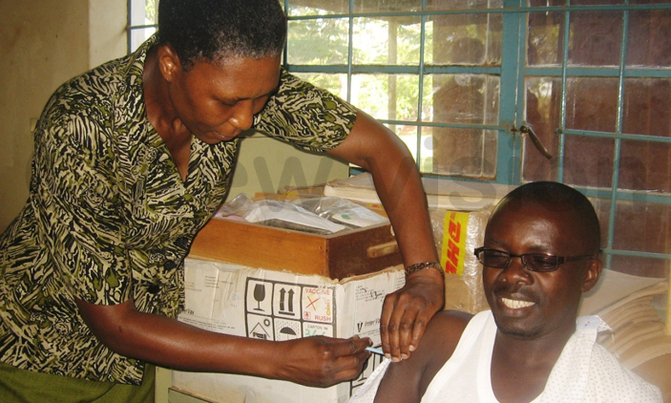 Over 10 people have been killed by the disease
Journalists from Masaka were the to recieve the free mass vaccination exercise against yellow fever.
"We are not taking lightly the mass vaccination against yellow fever, as practicing journalists in the affected district, we can easily fall prey to yellow fever since we are field reporters, the mosquitos spreading the disease are not far from us," Eddie Bindhe the journalists working with URN said.
Phiona Nanyomo a reporter with Bukedde said "We have seen live how yellow fever kills, the disease is like Ebola, and we do not want to take risks."
At least 30 journalists were vaccinated on May 19. Yellow fever out break hit Masaka since March killing over 10 people in the region especially in areas close to forests.
The mass vaccination exercise targeting 40,000 people in Masaka started on May 19. The exercise is also taking place in the affected districts of Rukungiri and Kalangala.
The victims in Masaka are in the locations of Buwunga, Bukakata, Kyanamukaka, Kyesiga where the six people who died were dealing in charcoal burning activities in the forests.
The Masaka District Health Officer, Dr Stuart Musisi told New Vision that over 600 health workers including VHT members have been dispatched to 155 health centre outreaches to manage the four day vaccination exercise.
He said the Ministry of Health, WHO and other agencies have delivered the required equipment and medical supplies to implement the exercise.
He said the exercise will roll out to the neighboring district of Kalangala after Masaka.
He asked the public in Masaka to participate in the vaccination exercise saying that intending to move out of the country without the yellow vaccination card will be restricted.
"For those intending to move abroad should take advantage of the free vaccination, it costs about 100,000/- to have the vaccination in facilities outside the free vaccination zones," he said.
He said people above six months should go for the vaccination exercise adding that the vaccine is safe.