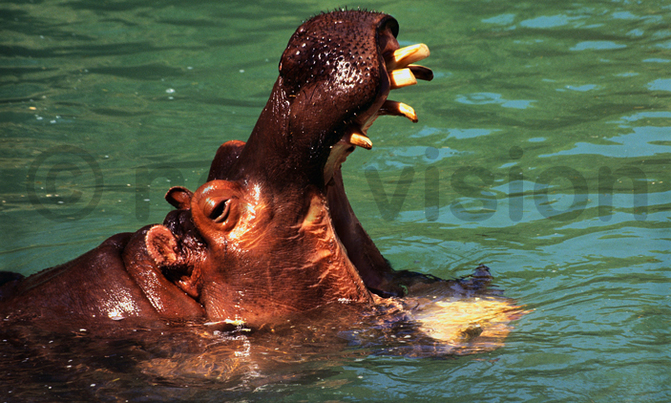 6 people have now died in the last two months after encountering hippos
Five fishermen drowned in Lake Victoria after a boat they were in capsized after it was hit by hippopotamus on Friday morning.
The incident happened at 5am when the small boat popularly known as 'Baawo Tatu' the five were in capsized upon being hit near Lugala Landing Site.
According to the chairman beach management unit at Lugala landing site, Fred Wanyama said the five had earlier moved to carry out fishing at around midnight and decided to spend the night on their boat but were unfortunately were hit by the hippo as they changed direction in order to collect their fish nets.
The deceased fishermen have been identified as Henry Wandera, Andrew Masinde, Jojo Osinde, one Michael and Derrick Balaba all residents of Lugala.
Wanyama said they have on several occasions alerted relevant officials about the presence of hippos along the shores of Lake Victoria.
"These people don't care about us yet we are dying" he said.
Last month a 34-year-old fisherman drowned in Lake Victoria after a small boat he was in capsized upon being hit by a hippo at Bumalenge Landing Site.
Another fisherman managed to survive after he swam to the shores of Lake Victoria.
The district fisheries officer Namayingo, Fred Igoma said they have written to the Uganda Wildlife Authority (UWA) personnel help trap the hippos that have now claimed six lives in less than two month.
Igoma urged fishermen to always wear life jackets while taking to the waters and avoid fishing under the cover of darkness to avoid similar incidents.
The Sigulu sub county chief, Leonard Ouma said they have written to the district leadership to alert UWA about the presence of hippos in the area.
He said the hippos have also destroyed over 50 acres of banana, coffee and maize plantations during the past two weeks.
The UWA spokesman Jossy Muhangi when contacted said a team of personnel from Mbale have been dispatched to the area to seek ways on how to trap the problematic animals.
He urged locals to remain calm as the issue was being handled.
There are over 34 hippos that spend the day in the papyrus reeds at Bumalenge landing site before moving to the deeper waters of the lake where they cross paths with fishermen.
The Namayingo district Police commander, Godfrey Abigaba said police is yet to recover the bodies of the fishermen.