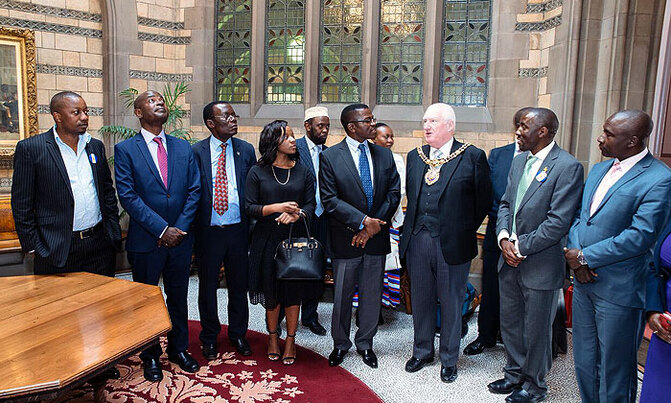 "Our strength is ... coming together in unity to empower and develop the ordinary people first."
PIC: Katikkiro Mayiga with the Mayor of Manchester City Paul Murphy at Manchester Town Hall. (Courtesy photo)

MANCHESTER - The Katikkiro (prime minister) of Buganda Kingdom Charles Peter Mayiga has said the kingdom's strength is not in throwing its weight behind politicians or political parties of the day, but rather uniting all kingdom subjects and guiding them to discover their own strength first.

He made the remarks while speaking to the Ugandan community and friends of Buganda who gathered at Parrs Wood High School in Manchester Tuesday evening, to welcome him and the princess royal on their maiden visit to Manchester, UK.

The function, attended by approximately 300 people mainly from Manchester and surrounding areas, was organised by the office of Kabaka's deputy representative in UK (Manchester area) headed by Omukungu Enock Mayanja Kiyaga.
Mayiga said that modern Buganda should always aim at greater horizons.

"Our strength is not supporting particular individual politicians but rather coming together in unity to empower and develop the ordinary people first," he said.

Buganda as a kingdom must always focus on the bigger picture in order to redeem the kingdom and the country Uganda at large, he reasoned, adding that the only way this can be achieved is first by getting to understand the vision of Buganda.

"If we are to get back the kingdom to the top, we must always focus on the bigger picture," said the kingdom's prime minister.

Mayiga said the main reason that led to the downfall of Buganda Kingdom was its failure to know its strength as a kingdom, which we must learn from.

The function was crowned by a message from Kabaka Ronald Muwenda Mutebi II, read by his daughter, Princess Tebattagwabwe Nassolo.


The Kabaka appealed to his subjects in the diaspora to always work together in unity in order not to lose connection with their roots and preserve their culture.

Earlier on, the Kabaka's representative in UK and republic of Ireland, Ronald Lutaaya, appealed to Ugandans to put their political differences aside and work together for development.

Other guests included Charles Bwenvu, state minister for Buganda's affairs abroad, the chairman of Buganda Twezimbe John Fred Kiyimba Freeman, Buganda Land Board CEO Kyewalabye Male who sensitised the audience about the newly established land protection elections system, among others.

Katikkiro Mayiga had a guided tour of Old Trafford, the home for Manchester United football club before leaving for Copenhagen, Denmark on a continuation of his working tour which will end in The Netherlands before returning to Kampala.
Katikkiro Mayiga mingles with the Mayor of Manchester City Paul Murphy