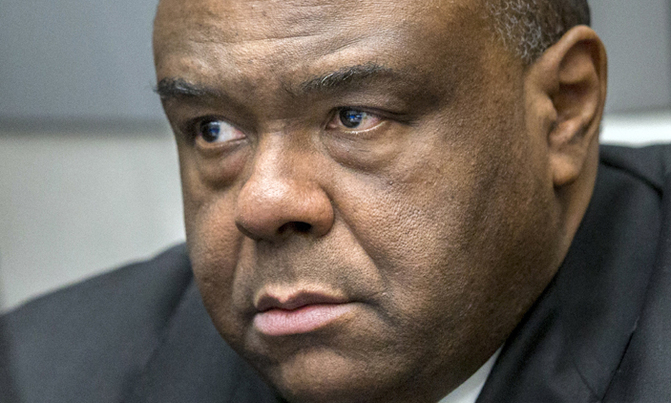 Both defence and prosecution teams were to argue their case in three days of sentencing hearings before judges at the court in The Hague.
THE HAGUE - Defence lawyers Monday sought to mitigate the sentence being weighed against former Congolese vice president Jean-Pierre Bemba, convicted in March of a slew of war crimes in the Central African Republic.

Bemba's case is the first before the International Criminal Court (ICC) to focus on sexual violence as a weapon of war, and the first to find a military commander to blame for the atrocities perpetrated by forces even though he did not order them.

Both defence and prosecution teams were to argue their case in three days of sentencing hearings before judges at the court in The Hague.

The three judges convicted the former feared rebel leader in March on five charges of war crimes and crimes against humanity.

A chilling series of rapes, murders and atrocities were committed in the Central African Republic (CAR) between October 2002 to March 2003 by troops from Bemba's Congolese Liberation Movement (MLC).

After a lengthy trial which opened in November 2010, the judges found Bemba had retained "effective command and control" over the 1,500 MLC troops he sent to CAR to quell an attempted coup against then president Ange-Felix Patasse.

They agreed with the prosecution that MLC troops had carried out a rampage in CAR which deliberately targeted civilians.

But Catholic Bishop Fridolin Ambongo appeared as a character witness Monday seeking to show that Bemba and the MLC had played a role in bringing "peace and stability" to the northwestern Equateur province of Democratic Republic of Congo.

While he said he had no knowledge of what had transpired in neighbouring CAR, in his DR Congo province the MLC forces had "made it possible for the population to feel peace finally, because the MLC came to re-establish everything that had been destroyed."

It was hard to see how Bemba who had helped his region "in very troubled times" could have "transformed himself into a monster" on the other side of the border.

Bemba will learn his sentence at a later date.

But he could face up to 30 years in jail -- or even a life sentence, if the court set up in 2002 to try the world's worst crimes, considers such a term is "justified by the extreme gravity of the crime".

Two victims will also testify this week, while the prosecution will present an expert to discuss the "intergenerational impact" of mass rapes and sexual violence.

A wealthy businessman-turned-warlord, Bemba became one of four vice presidents in the transitional government of DR Congo President Joseph Kabila.

In 2006, he lost to Kabila in a presidential election run-off and fled to Europe. He was arrested in 2008 in Brussels and handed over to the ICC.

His MLC militia has since morphed into a political party and is currently the second-largest opposition group in the National Assembly.