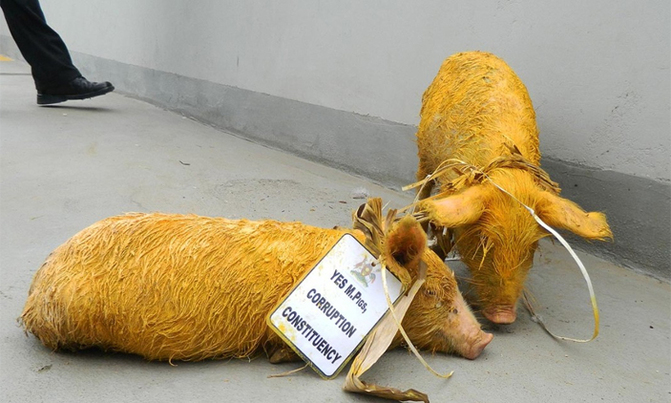 Police said it does not have a manual on how to store pigs
One of the two pigs confiscated from the Jobless Brotherhood by Police, died because of inadequate food, a Police officer has told the City Hall Court.
On Tuesday, Assistant Inspector of Police (AIP) Beraine Twesigye revealed to Grade One Magistrate Beatrice Khaiza that one of pigs died at Nsambya Police Station.
Twesigye made the disclosure during cross examination by Counsel Isaac Semakadde, a lawyer representing the Jobless Brotherhood group.
"Looking after the pigs for two years without resources is tiring. We don't even have a store for pigs in Uganda Police Force so one pig is there, the other one is dead", said Twesigye.
He added that he got to know about its death from one Corporal Muhwezi during his periodic checks on the exhibits at Nsambya Police.
The state prosecution was represented by Patience Origot.
AIP Beraine Twesigye an investigative officer at Parliament ordered for the transfer of the pigs which were dyed yellow, to Nsambya in 2014 after the arrest of Norman Tumuhimbise and Robert Mayanja who smuggled them into Parliamentary premises on June 17, 2014.
On arresting the four, Twesigye said Tumuhimbise and Mayanja were taken to Kampala Central Police Station and the two yellow pigs to Nsambya Police Station as investigations went on.
He responded to Ssemakadde who demanded to know how animal exhibits are handled by police saying Police does not have a manual on how to store pigs as exhibits to a case.
"These were the first exhibits at police and the nature of looking after them was a tug of war, we don't have a guidebook on how to store pigs as exhibits," said Twesigye.
Charges
The Jobless brotherhood were charged with three offences, interfering with Parliamentary proceedings which is contrary with section 17 (a) of Parliament Power Privilege, criminal trespass which is contrary to section 302 (b) of the Penal Code and Conspiracy to commit a misdemeanour contrary to section 391 of the penal code.
The case was adjourned to May 23.Three more state witnesses are expected to testify.