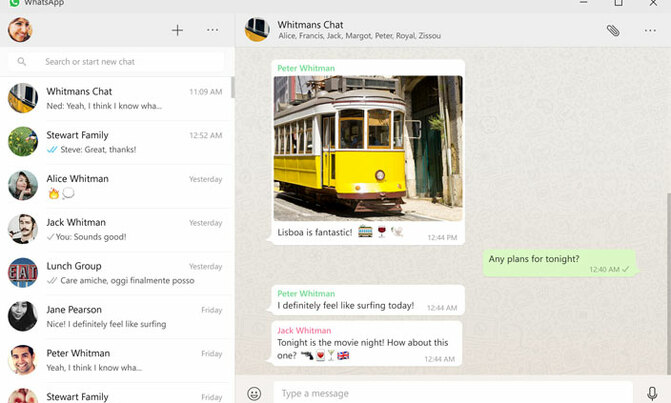 The new app will not depend on the mobile version of the communication platform.
Whatsapp has now introduced a desktop app which will be available for both Windows and Mac.

The WhatsApp desktop client will offer all the same features and shortcuts, which we have already seen on WhatsApp for Web. However, the difference is the fact that the new app will not depend on the mobile version of the communication platform.
WhatsApp stated in a blogpost, "Today we're introducing a desktop app so you have a new way to stay in touch anytime and anywhere - whether on your phone or computer at home or work. Like WhatsApp Web, our desktop app is simply an extension of your phone: the app mirrors conversations and messages from your mobile device."
To download the app, visit WhatsApp's blog from a desktop browser. Open the app and scan the QR code using the WhatsApp app on a smartphone. You can look for WhatsApp Web menu under Settings.
The desktop app is available for systems running Windows 8+ and Mac OS 10.9+ and gets synced with WhatsApp on one's smartphone. It is because that the app runs natively on the desktop, users will get support for native desktop notifications, better keyboard shortcuts, and more.
WhatsApp has been all over the news for a while now. The company is indeed ramping up it's service and introducing tons of new features. Along with the rumoured call back button, zip file sharing support and voicemail, WhatsApp is also rumoured to be working on video calls, NFC tags and group invites too. According to Android Police, video calls are coming very soon to WhatsApp, but whether they will be rolled out to beta participants only, to everyone, or as the same silly invite-like system of voice calls, is yet unknown.
In addition, the leak reveal the option to send group invites via links and NFC tags. WhatsApp is also trying out ways with which members of a limited group can invite other WhatsApp users to join as well. Recently, a report by PhoneRadar stated that WhatsApp for iOS and Android will now get a "Call Back" that will show notifications for a missed call with a call back button. With this new addition, a user will be able to dial back, without opening WhatsApp.
WhatsApp will also introduce voicemail for iOS devices. The new "Record Voice Mail" and "Send Voice Mail" buttons will soon allow users to send a voice mail during a call itself. One can also expect the voicemail to record and share in-call audio.

Source: Online