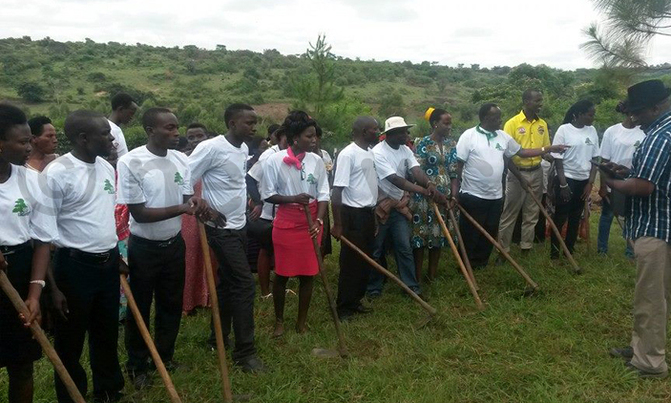 Youth have embarked on planting 21km of trees along highways
Youth have joined in the fight to stem the rapid desertification of Uganda. The country loses 92,000 hectares of forest per year as a result of charcoal burning, illegal timber harvest, population growth, urbanisation and opening up new farmland.
However, big forests in Bunyoro, Mount Elgon and Toro are aggressively being encroached on. The swamps and lake shores are also not being spared.
"This can be checked if each of us plants a tree," says Edwin Muhumuza, the executive director of Youth Go Green, a company that unites youth interested in conserving the environment.
With a 500,000 members, the youth have embarked on planting 21km of trees along highways and have earmarked 10,000 hectares to be under forest cover in the next five years. They have distributed ornamental, timber and fruit trees. They have reached Kamuli, Toro and Karamoja.
Pregnant with expectation, they preach how; diets will improve with fruits, income will be generated from timber and the environment will be protected from soil erosion.
"Our ancestor's first point of call before going to hospital was a herb," says Muhumuza. "The forest was the pharmacy. Herbs continue saving lives as first aid before a patient reaches a conventional medical centre."
The group is liaising with UPDF, religious leaders, corporate bodies such as National Forest Authority and Uganda Wildlife Authority to achieve their goals.
During the launch of Youth Go Green in June 2014 at Namboole Stadium, President Museveni, did not spare developers, farmers and conservationist the barbs.
"Planting trees without stopping cutting of those in place is futile," observed Museveni. "It is unfortunate National Forestry Authority (NFA) has failed to halt forest destruction by encroachers."
He stressed how NFA is mandated to protect the existing, public and private forests from being degraded.
"But planting trees without safeguarding the environment from charcoal burners, rice growers and brick bakers is a waste of time," said Museveni. "It is good to see the youth link hands with corporates to salvage our environment."
Present during the inauguration of Youth Go Green, the NFA head of corporate communications, Gilbert Kadilo said the rate forest cover destruction per year is appalling.
"If the Youth Go Green manage to plant one million trees in five years, they will enrich the country with an additional 10,000 hectares of forest cover in the country. At the beginning of the century, the forest cover under government was about 3,090,000 ha in the country."
Deforestation in Uganda has mainly been due to a rapid increase of a population coupled with breakdown of law and order during the turbulent years of the 1980s. During that time, forest reserves were cleared indiscriminately.
In the 1980s there was a forest cover of 75,000sq kilometres of woodland and forest. Of these, 250,000 square kilometres were protected reserves. Deforestation has been rapid in poverty stricken areas of the country.
To revive forestry, government abolished the Forest Department and established the National Forestry Authority (NFA) in 2004.
The aim of this action was to increase revenue and quality of the forest management. In the financial year of 2004/2005, the first year after they took over from the Forest Department, the NFA increased the revenue from forest products to UGX 5,400,000,000 from previous year's UGX 1,200,000,000.
Kadilo laboured to explain that unfortunately NFA has no jurisdiction over forests under the ownership of local governments and individuals.
The national forestry and tree planting act (2003) that established NFA, Kadilo said, limits their mandate to the central forest reserves. He explained that there are 506 central forest reserves which constitute 15% of the forest cover.
Another 15% of forest cover, Kadilo said, is under the management of Uganda Wildlife Authority (UWA) because they are located in conservation areas.
"Great damage is happening in local government and private forests which constitute 70% of the forest cover. The law limits NFA to provide technical support, advice local governments and private individuals who own forests," revealed Kadilo. "The absence of a consolidated approach to manage forestry is unfortunate."
Asked about what is expected from Youth Go Green, the state minister for works John Byabagambi said, Uganda National Roads Authority (UNRA) has demarcated areas along major highways for the tree planting campaign.
Gen. Elly Tumwine, the technical advisor of the tree planting campaign revealed that, The Parliament, UPDF, police and prisons will plants trees along various high ways.
"Trees offer a shade along the highways for travellers in transit," said Tumwine. "They also control and contain the running water which destroys road surfaces. There are mango trees in Teso and Lango which are good and nutrition for the residents. In Kampala city a mango goes for sh1,000."
However, a ranger in Budongo says forests contain a greater variety of biodiversity than any other ecosystems. Only a fraction of the species found in forests have been studied.
"We have a tree which is more than 500 years old in Budongo Forest. It is a home for insects, other plants and birds. Likewise trees and plants found in tropical forests comprises particularly of intensive area where animals, plants and birds exist together."
There is still hope for humanity to salvage the earth if like Youth Go Green, every one plants trees. Man derives many benefits from forests as proven that many medicines owe their findings to plants found in forests. Local communities survive on plants and animals culled from the forests.
Products that modern society depends on such as wood, paper and bamboo all originate from forests. Many other desirable products such like barkcloth, spices, gums and dyes.