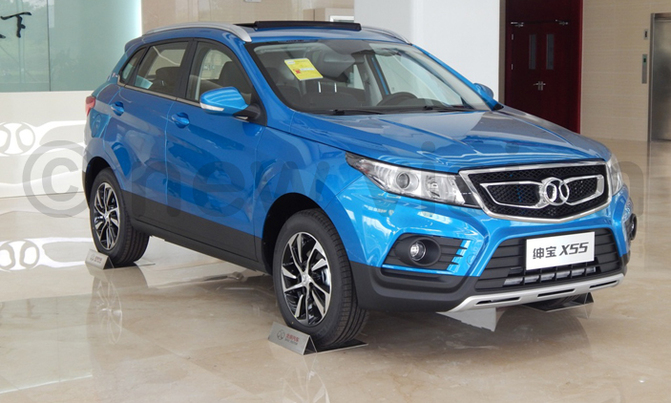 East Africa is seen as a potential market
In a market dominated by Japanese brands and second-hand vehicles, some of China's biggest automobile firms are looking to Africa as new ground to expand their market base and reach.
One such firm is Beijing Automotive Industry Holding Co, a state-run firm and one of China's largest automakers in terms of sales volumes.
The Beijing-based company produces an average of 150,000 vehicles per year and is scheduled to establish its first manufacturing plant in South Africa in 2018.
Chinese car brands will be seeking to cash in on a growing demand for new inexpensive vehicles in Africa, in a market dominated by traditional brands such as Toyota and Nissan.
Established in 2011, BAIC has curved out a niche for producing passenger vehicles, sport utility vehicles, minivans and vans in both fuel and electric variants.
In most sub-Saharan countries, including Uganda, second-hand vehicles command a large share of the market, in some countries accounting for 80% of annual car sales.
At a time when some carmakers are no longer producing spare parts for older models, Chinese firms are seeking to establish production plants and service centres in many parts of Africa.
In Africa, East Africa and Southern Africa are seen as potential markets for automobiles, owing to relative stability and rapid economic growth.
"East Africa is the continent's engine for growth and my company will establish a regional office there," said Milo Gao the regional director for Kenya at Foton Motor Group in an interview.
In China's eastern province of Jiangsu, Higer, the leading manufacturer of conventional and luxury buses has its eyes on African markets.
As part of economic reforms that have seen China's shift from reliance on heavy manufacturing, the firms are shifting both hardware and software for production overseas.
Although most of the automobile companies have set up shop in some African cities, insecurity, inadequate skills are seen as some of the barriers to expansion of automobile investments.
"In Tanzania and Uganda, the environment is good and the new governments are doing well to put the economy in order. In Tanzania, they have many technicians," Gao says.
Foton was officially launched in Uganda in June 2013,with plans to manufacture commercial vehicles like light trucks and minibuses.
With initial plans to start producing 100 commercial vehicles per day, the company set up shop in Namanve and established a service station in Bugolobi.
In West Africa, also seen as a vibrant market, insecurity and high unemployment rates are viewed as major hindrances to automobile investment, he explains.
Analysts point out that the ability for Chinese-made automobiles to establish wide presence in Africa will largely depend on price, reliability and availability of key components or spares.
Gao is confident that investments from Chinese automobile companies will help create jobs, boost exports and facilitate skills transfer to local engineers in the long-term.