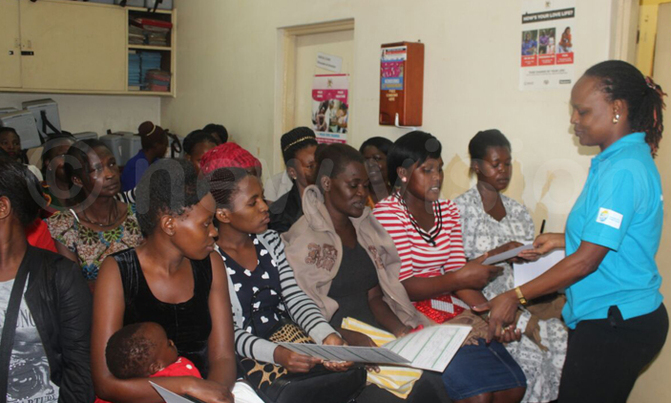 Cervical cancer is the leading cause of cancer deaths in Ugandan women
As a woman now in her middle age, Janet Asalo, kept hearing that she needed the test. Her friends also needed one; at least that is what those who had visited a hospital in the recent past had heard from the health workers.
"They said it is good to keep checking for it, because if detected early, it can be treated," she said. "I have seen women dying because they came late."

So when she recently turned up at the Kiswa Health centre in Bugolobi, Kampala, there were nearly 100 women, awaiting a free screening, courtesy of Reproductive Health Uganda (RHU) in partnership with the Infectious Diseases Institute Uganda and Kampala City Council Authority (KCCA).

First they explained to them that that cervical cancer is caused by the Human Papilloma Virus (HPV) which is transmitted through sexual intercourse with aTrue, the cancer institute tells of the fact that it is the leading cause of cancer deaths in women in Uganda. Unfortunately 80% of the patients present late, and most of them consult a specialist when they have reached their 40s or 50s.

So when Annet Kyarimpa, a project officer with RHU, explained their decision to offer free screening, it was this that led on the agenda. She agrees with Asalo, that if caught early, especially in its non-cancerous state, cervical cancer can be nipped in the bud.
"That is why we carry out this screening to ensure that women can catch this disease at an early stage," she says of the project that will be offering free testing in KCCA hospitals.
But since HPV is spread through having unprotected sex with multiple partners, and common among persons who engage in sex at an early age or those living with HIV, Kyarimpa said it made sense to partner with the Infectious Disease Institute.
"It is just a joint effect to see that this disease is managed at all levels," she says. Apart from screening, they share information, and when caught early, they treat on sight.

The country's cervical cancer statistics are still scanty, but the RHU Fort Portal screening, could give an insight. Of the 668 women been screened recently, 52 were found with pre-cancerous features and one woman was found with cancer and referred to Mulago where the institution is monitoring her health.

To catch it at the pre-cancerous stage, a visual inspection with 5% acetic acid (VIA) to detect a pre-cancerous stage.
"If cancerous cells are found and crotherapy, a treatment method to freeze the cancerous cells, is administered," she says. It should take no more than 30 minutes and a whole cancer battle won.

Dr. Ombeva Malande, a specialist at Paragon Hospital, when discussing the cancer advised that one should get routine tests.
"It is important for women to have regular pap smear tests, preferably every two years, and if found negative, it is important to be vaccinated. Because this is the only cancer that women can prevent," he said.