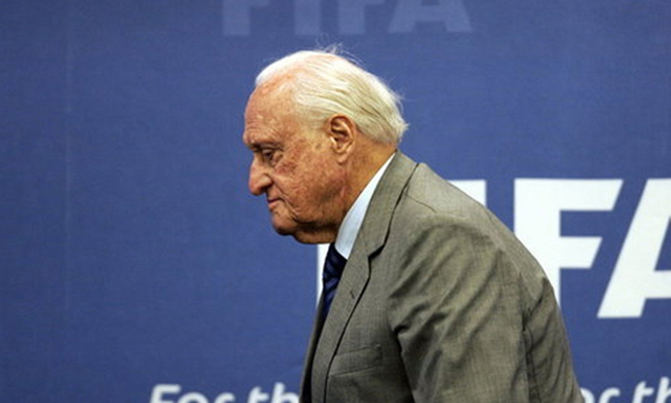 Havelange resigned from the IOC in 2011 to avoid sanctions from the Olympic movement after 48 years of service
RIO DE JANEIRO - From hero to pariah -- Joao Havelange had invited the Olympic family to join him for his 100th birthday when Rio de Janeiro won the right to host the 2016 Olympics, but on Sunday the former FIFA president will celebrate amid indifference.

Havelange had urged fellow International Olympic Committee members to choose Rio as host city, with the Brazilian's impassioned speech in Copenhagen in 2009 including an invitation for IOC members to join him to mark his centenary on the eve of the Games.

President of the Brazilian Sports Confederation from 1956 to 1974, and head of world football governing body FIFA from 1974 to 1998, the imposing figure of Havelange had helped Brazil win bids to host the 2014 World Cup and the 2016 Olympic Games.

But seven years later that invitation has fallen on deaf ears.

The name of Jean-Marie Faustin Goedefroid Havelange, born in Rio to a wealthy Belgian family during World War I, now smells of sulphur -- an investigation into the bankruptcy of the International Sport and Leisure (ISL) marketing company showing he had received millions of dollars in payments.

Havelange resigned from the IOC in 2011 to avoid sanctions from the Olympic movement after 48 years of service. He also abandoned his title of honorary FIFA president in 2013.

"There is no smoke without fire. These affairs have contributed to nothing being planned for his birthday," a Brazilian Olympic Committee (COB) member told AFP on condition of anonymity.

Neither the IOC, the COB, nor the 2016 Rio Games organising committee will be represented.

Moreover, a further sign of his fall from favour -- the Joao Havelange Olympic Stadium is now known simply as the 'Olympic Stadium'.

Questioned by AFP, Carlos Arthur Nuzman, the president of the COB and Rio2016, estimated that the Copenhagen speech "inviting all IOC members to celebrate in 2016 in Rio de Janeiro the first Olympic Games in South America, had been fundamental for the Brazilian victory. The Rio Games will be a big present to celebrate his birthday".

The celebrations on Sunday at Ipanema -- an affluent district of Rio -- will be a small private ceremony before a Mass in Havelange's honour on Monday evening.

'Little brother' Blatter

Sepp Blatter, his successor as FIFA chief in 1998, will be absent as he has been advised by his lawyers not to leave Switzerland as he fights corruption allegations.

But in an open letter to his mentor who hired him in 1975, Blatter wrote: "You can be proud, Jean, to celebrate your 100 years Sunday and I, as your friend, or as your little brother -- as you called me -- I am proud to present you with my compliments but above all, respect, consideration and friendship."

FIFA's new leadership will not be attending, officially because of next week's Congress in Mexico.

"I will be the only FIFA representative," FIFA director Walter Gagg told AFP, adding that he had been given "the mission of president Gianni Infantino to be at the festivities". Havelange's former assistant Marie-Madeleine Urlacher will also be in Rio.

Brazilian Sports Minister Ricardo Leyser will not however be present because "he never had a relationship with Havelange, who is from a different generation, which knew other politics," his press office said.

Even Havelange's favourite team Fluminense have "nothing planned, not even a tribute," apart from a message on the website and social media as usual.

A sportsman during his youth, Havelange participated twice in the Olympics -- in Berlin in 1936 in swimming and in 1952 in Helsinki in water polo.