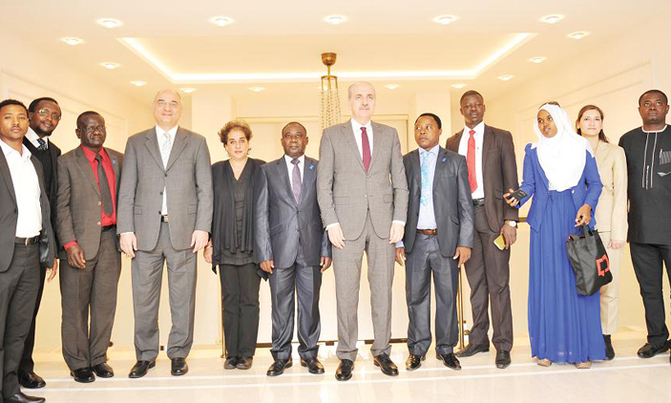 Turkey has today become the biggest refugee-hosting nation in the World
Turkey is due to host the first World Humanitarian Summit in Istanbul on May 23-24. The Turkish vice Prime Minister, Numan Kurtulmus, informed 15 African journalists recently that the summit comes on the heels of the Organisation of Islamic Conference (OIC) meeting which had just conclude in Istanbul.
Ambassador Ali Kemal Aydın, of Turkish Ministry of Foreign Affairs said the decision for Turkey to host this historic Summit was arrived at the 68th session of the General Assembly of the United Nations on September 26, 2013, when the UN Secretary General Ban Ki-moon declared Istanbul as the host of the first-ever Summit.
In his statement, Ban Ki-moon emphasised both Turkey's position as one of the world's leading humanitarian donors and Turkey's own experience in directly responding to humanitarian emergencies, he said. Turkey is the third highest humanitarian donor after the US and UK.
The summit is coming at a time when international humanitarian system can no longer adequately address today's humanitarian crises.
The Turkish Ambassador to Uganda, Sedef Yavuzalp, recently wrote that there is growing complexity of contemporary humanitarian crises, the great majority of which are conflict related; growing financing gap between ever-increasing needs and limited resources and growing suffering of affected peoples and communities, as a consequence.
Turkey has today become the biggest refugee-hosting nation in the World. Turkey has 26 temporary camps where about 300,000 of the 2.8 million mainly Syrian refugees it is hosting ever since a vicious civil war broke out in Syria in early 2011 are living.
According to Turkish Disaster and Emergency Management Authority (AFAD), Turkey has so far spent $10b on humanitarian aid ever since the Syrian civil war broke out in 2011.
The Istanbul Summit is, therefore, expected to address these major challenges because today, 80% of humanitarian needs are caused by conflict.
Since 2015, in Iraq, 8.2 million people have become in need of humanitarian aid. In Syria, over 4.5 million people have been forced to flee their homes.
In Sudan, 1.5 million people have been displaces due to the conflicts and in Ukraine, five million people are in need of assistance.
Records indicate that globally, the number of people in need of humanitarian aid has doubled in the last 10 years. Every year, over 100 million people are faced with natural disasters.
This year (2016) it is estimated that about 125 million people are in need of humanitarian assistance. There are about 60 million people globally affected by wars and conflicts.
This Summit is expected to take concrete steps in order to respond to the current humanitarian crises in the fastest and most effective way and to identify preventive policies.
In Uganda, the Minister of State for Relief, Disaster Preparedness and Refugees, Musa Ecweru said that there are about 500,000 refugees in 17 camps mainly in Western Uganda and West Nile, who ran away from civil wars in neighbouring countries South Sudan, Democratic Republic of Congo, Burundi, Somalia, Eritrea, Rwanda and Kenya.