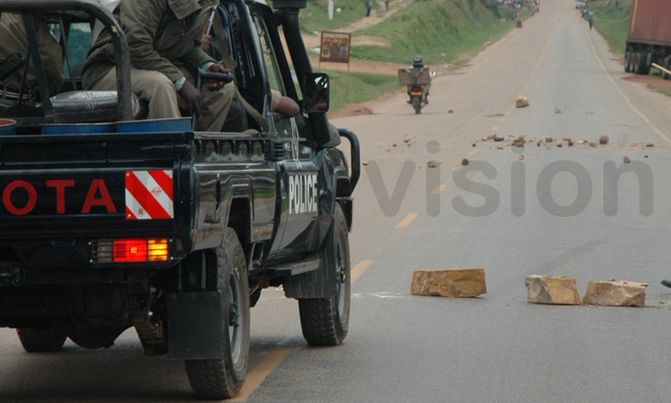 The driver of the vehicle is in police custody
Two people were killed while three others were rushed to Lacor Hospital in Gulu after a speeding Police pick-up vehicle registration number UP 4713 carrying Aswa River Region Police commander Wilson Kwanya lost control while it approached Awei-betty junction in Minakulu A village, Oyam district and veered into a market crowd.
The Toyota vehicle white in color according to witness was travelling from Gulu at a high speed while it took Kwanya for the national Labor Day celebrations that were held in Hoima on Sunday.
Abel Okonye Achola the Minakulu B LC1 chairman who was at the market during the incident told New Vision that the vehicle was speeding but lost control when it tried to overtake a motorcycle carrying iron sheets.
"It was at around midday and it was a busy market day when the vehicle rammed into the crowd by the road side. Two people, Odoch Mike son to Alfred Etot the LC1 of Amwa-lwala, Adel Parish and Hellen Acipa the wife to LC1 of Alati B in Atek Parish both died instantly," Okonye said.
Meanwhile the driver of the vehicle identified only as Kilama and the vehicle are in police custody.
"It is true the accident occurred and we are keeping the vehicle and its driver under our custody," Waiswa Najib, the district police commander of Oyam said although Jimmy Patrick Okema the Aswa Region spokesman blamed the accident on traders who crowded the road on the market day.
When visited from their recovery beds at Lacor Hospital on Monday, Richard Obol Okello a special police constable attached to Minakulu Police post told New Vision that he and four others stood 4 meters away from the road while bargaining for a chicken when the vehicle crashed into them.
Okello who broke his rib and sustained a crack in his right arm was admitted on Saturday evening unconscious at Surgery Ward II with Patrick Ojok and 12 year old Evalyn Ayar who is in the intensive care unit all at St. Mary's Hospital Lacor.