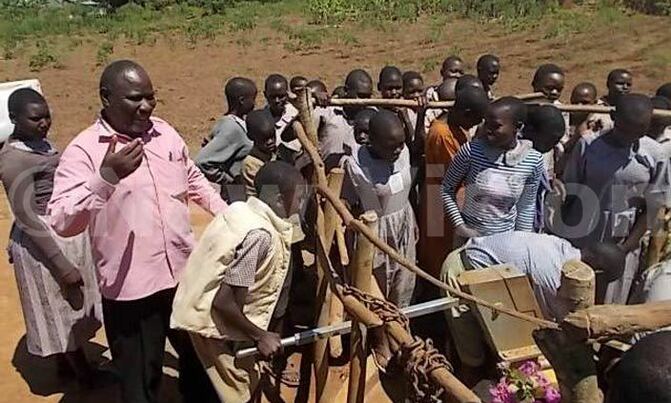 The girl children say they no longer stay away from school during their monthly menstrual periods
By Lawrence Okwakol
Schools with washrooms and water sources have done miracles for girl child education in Pallisa and Kibuku districts.

The girl children say they no longer stay away from school during their monthly menstrual periods.

Sarah Katooko, a pupil of Kabwangasi demonstration primary school in Pallisa district, disclosed that she no longer requests for permission to go home to 'attend to herself' because the facilities are now availabile at the school.

"I thank Build Africa for thinking about the problem which makes girls miss lessons as they go home to attend menstruation as the boys remain studying and teachers have no time to attend to us when we resume two or four days later," Betty Kataike of Kalampete primary school in Kibuku said.

Margaret Nawunge, the head teacher of Kabweri primary school, said girls at her school currently study continuously without missing lessons as they are given due attention.

Nawunge said with the washrooms available the senior woman teacher and her team find it easy to help girls and the school gives improvised pads to retain the girls at school.

While commissioning the newly constructed pit latrines, water harvesting tanks and boreholes to 31 schools recently, Kibuku and Pallisa district leaders applauded Build Africa Uganda for providing the facilities which will ensure the retention of especially the girl child at school.
At the handover ceremony, the resident district commissioner Kibuku, Margaret Wazikonya, directed the head teachers of the beneficiary schools to ensure they provide girls with necessities for their menstrual periods while at school.
Wazikonya, who briefed the senior women teachers, asked them to always counsel little girls to embrace their periods with ease and master the cycle.

"You have a responsibility and you need to work with other female teachers because you cannot handle over 200 girls alone and mark you, their parents have no time for these girls," Wazikonya said.

Franco Olaboro, the deputy chief administrative officer, Kibuku, challenged the parents to ensure children are given meals at schools now that government and other NGOs are bridging the schools facilities gaps.

Olaboro said the facilities offered by the charity will be useless if pupils are not fed.

"The pupils in Kibuku primary schools have shortage of desks, with many especially in lower primary, sitting on the floor which frustrates their being at school," he said.

The district education officer Kubuku, Emmanuel Kereba, said though the district is going to deliver desks to schools this year, they cannot be enough yet.

Kereba said they were giving primary one pupils the priority because Research Triangle International (RTI) which is being implemented in lower primary, insists on the training of pupils to develop reading and writing culture at the early stage in a conducive environment.

"I have directed the head teachers to allocate the available furniture to P.1 rather than giving attention to primary seven only," he said.

However in Pallisa the deputy district commissioner, Sadiq Bategana, praised Build Africa for showing results which will make children like being at school.

Bategana asked the school management committees of the beneficiary schools and the water user committees to ensure that the facilities and jealously protected.

"Build Africa has filled gaps which the local government could not meet immediately so we should support them in every way possible", he said.

However John Francis Okuma, the district education officer, Pallisa, said the enrolment of girls children in schools with washrooms and water sources is higher other without.

Okuma said all schools should have washrooms, water sources and feeding of pupils for them to have meaningful education.
John Eyanu, the Build Africa Uganda program officer, said they identified the sub counties with the worst facilities which affected the retention of girls at school.

Eyanu said for the eight boreholes they drilled in Pallisa and Kibuku they spent sh176m, the seven water harvesting tanks cost sh70m and the twenty six pit latrines of five stances took sh432m which Water Aid Uganda had a hand in the support.

He said in Pallisa the schools which have so far benefited and their facilities commissioned and handed to them include;Nasenyi, Puti, Kabwangasi, Maizimasa, Kabwangasi Dem,Kachuru, kawojani, Kamuge station, Kamuge, kamuge-Olinga, Bolisio, St.John Bolisio, Kalapata , Keuka, Odepai and Kakoro SDA.

While in Kibuku district, Nanoko, Nankodo, Kapyani, Moru, Bugiri, Lwatama, Kiryalo, Bugwere, Tirinyi, Kalampete, Kabweri and Kenkebu primary school benefited.