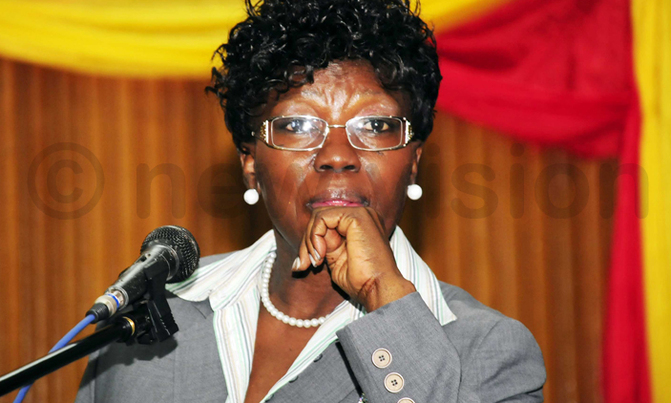 Parliament needs Kadaga, the MPs claimed
Total of 49 MPs hailing from Karamoja and West Nile regions have openly declared their support for Speaker of Parliament Rebecca Kadaga.
30 MPs hailing from West Nile region and 19 legislators from Karamoja region declared their support for Kadaga to take up the Speakers job for the 10th Parliament.
Led by the chairperson of the West Nile MPs, Grace Freedom Kwiyucwiny (Zombo Woman MP), they flocked the Speakers board room, meeting Raphael Magyezi (Igara West), chairperson the Kadaga's task force and his deputy Isaac Musumba .
"All the 30 MPs hailing from West Nile region have gone open to declare their support to the Parliament Speaker Rebecca Kadaga for her bid to steer the 10th Parliament for a second term" Kwiyucwiny said.
The MPs hailing from Karamoja were led by their chairman Dr. John Baptist Lokii, (Matheniko County).
"In Karamoja region there is no opposition MP, all the 19 legislators subscribe to NRM, support Kadaga because of her integrity and character. She has exhibited unity among the MPs while steering the 9th Parliament" Lokii said.
MPS hailing from West Nile who attended the meeting are: Bernard Atiku (Ayivu County), Margaret Baba Diri,(Koboko Woman), Ashraf Olega (Aringa), Zaitun Driwaru (Womam MP elect Yumbe), Aliaon Yorke Odria (Aringa South) and Angel Mark Dulu (Adjuman East),
Those hailing from Karamoja who attended are: Christine Tubo Nakwang (Woman MP elect Kabong), Rosemary Nauwat (Amudat district), Fred Angella (Moroto municipality), Christopher Akorikimoi Kipterit, (Upe County), Annie Logiel, (Wowan MP Moroto), Janet Okori-Moe (Abim district), Albert Lokoru, Ekorita (Tepeth County Moroto).
Those in absence but sent apologies to the meeting are: Fr. Simon Lokodo (Dodoth West), Samson Lokeris (Dodoth West), Esther Anyakun (Woman MP Nakapiriprit), Terence Achia (Bokra County Napak), Michael Ayepa (Labwor County), Lokeris Aiumat (Chekwii County Nakapiriprit), Stella Namoe (Woman MP Napak district), Margret Achilla Woman MP Kotido District), Hillary Lokwang (Iki-Iki county) and Bildard Adume (Jie county Kotodo district)
"Parliament needs Kadaga to steer Parliament for the second term because of the institutional memory, and her experience so that there is stability in the house" Kwiyucwiny added.