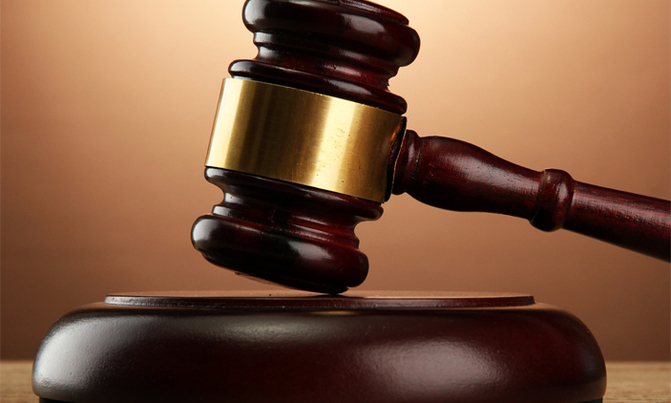 Ahimbisibwe and Okoit are charged of the offence of threatening violence
Court has scheduled May 30, as the start of hearing in the case where an ex-army Captain Benjamin Ahimbisibwe, is accused of threatening violence on an aide of a Chinese businesswoman.
Nakawa Court, Kampala Grade One Magistrate Carol Kabugho, fixed the date when the parties had convened for mention of the case.
Ahimbisibwe's co-accused Benjamin Okoit was not in court. State attorney Caroline Opia, who delegated for state attorney Ann Ntimba requested for an adjournment.
Opia explained that the Police file was still at the Directorate of Public Prosecutions headquarters.
She introduced the first two witnesses, Xing Cheng, and her aide Peter Isabirye, who is the complainant.
But Ahimbisibwe's lawyer Paul Baingana, protested any further adjournment, and reminded the magistrate that in the last court session, she directed that there would be no further delays.
However, Kabugho acknowledged that although she had expressed reservations about the delay, another query on the whereabouts of Okoit had arisen.
"Yes, that is true but the co-accused is absent. Let me extend criminal summons for him. Ahimbisibwe said he was picked by Police from the court premises. Find out if he is telling the truth," said Kabugho.
She tasked Isabirye to liaise with his lawyer Thomas Ocaya, to fast-track the Police file. Ocaya said he was in touch with the investigating officer, and would endeavour that the file is produced at the next session.
Background
Last year on December 1, businesswoman Xing Cheng through her lawyers Kiwanuka in a letter addressed to the DPP, lodged a protest under reference KK/3595-01.
The letter requested for a review, on the premise that the charges do not reflect the gravity of the offence purportedly committed by the duo and Juan Cheng, Xing's elder sister.
Subsequently, the Police file was recalled by the DPP for review.
Ahimbisibwe and Okoit are charged of the offence of threatening violence, which is contrary to section 81 of Uganda's Penal Code Act.
But however, the firm contends that Juan Cheng was an accessory to the robbery, as the purported hitmen worked on her instructions.
The duo purportedly went to Xing's residence in the city suburb of Mbuya on Plot 24 Ismail Road with intent to intimidate her driver Fred Isabirye.
Footage from closed circuit television installed at Xings's home, showed the duo pointing guns at Isabirye. The items taken were a laptop, its bag, cheque book, electronic banking key of Standard Chartered Bank, a receipt book, a passport and stamps.
Xing, who is director of Friendship International Tours and Travel, came to Uganda in April 2010, while Juan, director Sky Travel Uganda Limited, came to Uganda in 2008.
Juan is married to Eddy Chou, also a Chinese, whose company Tic Plastics, situated in the city suburb of Nalukolongo, manufactures plastic household products including polythene bags.
Rivalry genesis
Xing claims the fall-out with her sister, stemmed from a family wrangle turned business grudge. Xing said Juan dismissed her from Sky Travel last year on September 16.
Court records at Mengo Court show that Juan filed a suit against Xing, purporting that the latter stole money and office materials.
But Juan's claims were dismissed by court last year on May 13.