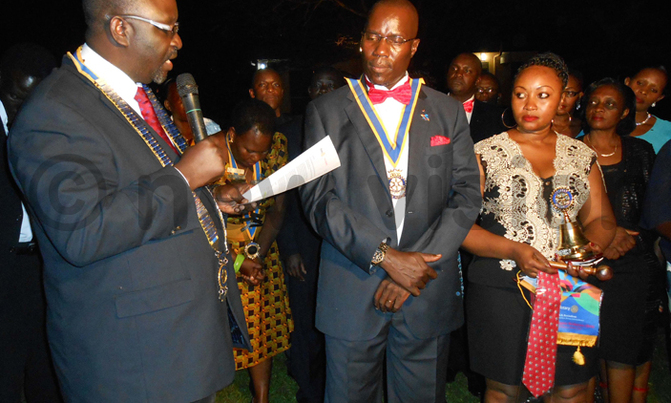 'Helping the community doesn't not necessarily mean giving hard cash'
Rotarians have been asked to create time and develop the communities around them .This will prevent incidences of crime especially theft and burglary.
The call was made by District Rotary Governor Rotarian Wagwa Nsibirwa while launching the Makindye West Rotary Club at Makindye Country Club. The club will be headed by President Richard Lukwago Senjako.
He said that much as Rotarians are busy people, they must find time to serve and meet their neighbor's needs.
"You can't say you are too busy to meet .we need to find time and engage the community and intervene in their situations. If you only have time for making money, you may not enjoy that money alone," said Nsibirwa.
He said helping the community doesn't not necessarily mean giving hard cash but could be through community activities like the extending services like health, water, education, including financial aids nearer to the people.
"We shall not enjoy the money if the community is left out because they will think that Rotarians are depriving them of their right," added Nsibirwa.
The new club was launched alongside the admission of close to 38 members into who will be meeting every Thursday for one Hour to come up with activities needed in the community and improve each other's competencies.
Daniel Nsibambi the director communications at Makindye West Rotary club said that Rotary is an international humanitarian organization that is represented in Uganda through various clubs.
It draws its membership from professionals and business people who volunteer to sponsor projects that benefit the community.
The largest project so far is the Cancer Treatment Centre recently constructed and handed over to Nsambya Hospital.
Funds were mobilized through the annual Rotary Cancer Run and other donor partners.