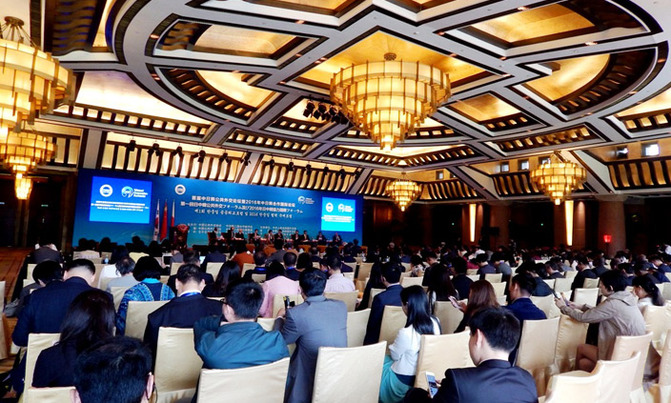 The public diplomacy forum comes after leaders from the three countries last year resumed a trilateral summit put on hold for three-years following strained relations.
Taddeo Bwambale in Beijing

China, South Korea and Japan held their first forum on public diplomacy in China's capital, Beijing on Friday, an effort to foster dialogue and improve relations among the East Asian neighbours.

Held at the Diaoyutai State Guesthouse, the trilateral forum sought to kick start a new line of communication meant to ease tensions resulting from historical and territorial disagreement.

Li Zhaoxing, the chairperson of the China Public Diplomacy Association that organised the forum said the meeting was meant to increase mutual friendship, peace and development of Asia.

At the start of the forum, Zhang Yesui, China's vice minister for foreign affairs said dialogue would help build mutual trust, prevent geopolitical risks and promote security.

"Our three countries have common interests that far out-weigh our differences," Zhang told hundreds of delegates from the three Asian powers.

He maintained that as permanent neighbours, the three powers can promptly deal with historical and territorial differences without relying on 'foreign' interests.

Kim Jungsoo, South Korea's Ambassador to China backed public diplomacy as a good front to address conflict and disputes among the three countries.

He stressed that such efforts must be built on political trust and good communication and vowed that his government will cooperate and support platforms for dialogue.

"We are willing to cooperate," Jungsoo stated, invoking the adage that good neighbours are better than good houses.

Although the three countries are geographical neighbours, they bear psychological differences with regard to their share of history and territory.

China and Japan are locked in a bitter dispute over a chain of islands in the vast South China Sea. China accuses Japan of not acknowledging its soldiers committed war atrocities.

South Korea is restive about North Korea's threats of nuclear attack and together with US hopes to deploy an advanced missile defence system, much to the chagrin of China.

At the forum, past and current senior government officials and diplomats from the three states backed the use of diplomacy, rather than confrontation, to settle disputes and boost ties.


Mending fences

Xu Jialu, former chairman of China's ruling Communist Party of China (CPC) standing committee says the three countries have sacrificed culture, uniting tool, in their quest for industrialisation.

"We must look beyond economic, political or military relations. Culture is our uniting tool. We need to look at our past, present and future," he insisted.

At the back of the plush guesthouse compound, an inflated red balloon in the shape of a flower bearing 800 language characters that are shared by the three countries, swayed with the wind.

"We have taken a path that has left us with problems. We have accepted the western culture of military ships. Human transformation is so fast and society has lost its balance," Jialu lamented.

Unlike in the past when East Asia suffered natural crises of earthquakes, tsunamis and volcanic eruptions, it now faces man-made crises of war, gender inequity and environment abuse, he says.

Geopolitical interests

Former South Korean Prime Minister, Goh Kun suggests that attempts to resolve the disputes must take into account the geopolitical role of the US, a close ally of Japan and South Korea.

"There is a saying that in one mountain, two tigers may not co-exist. For any constructive effort to take root, Sino-US relations need to be stable," Kun told delegates at the forum.

Former Japanese minister for economy, trade and industry, Toshihiro Nikaio says mutual support in humanitarian affairs and youth exchanges can help mend fences.

"South Korea, China and Japan have many young people. Exchanges between them are good for the future of the region because we can pass on this tradition of diplomacy," Nikaio argues.


Every year, about 23 million of their nationals make visits across borders. The three countries account for 22% of the world's population and the biggest share of annual global growth.
.
A panel of experts from the three countries later deliberated on a range of issues affecting region sessions that touched on political, economic as well as cultural and media cooperation.

The public diplomacy forum comes after leaders from the three countries last year resumed a trilateral summit put on hold for three-years following strained relations.