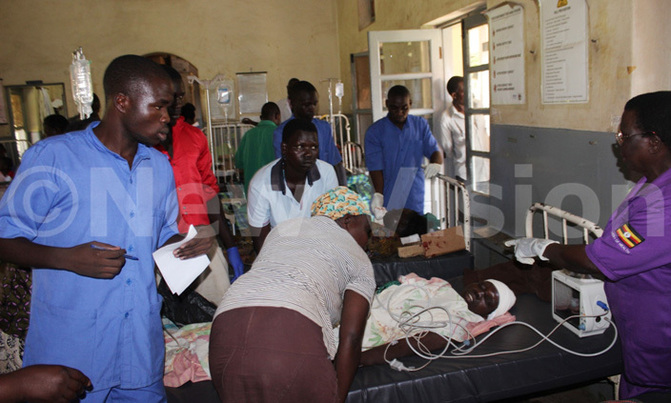 The accident occurred at Television trading Centre in Opuyo which is about three kilometers away from Soroti town.
Three people died and over 11 others were injured in a motor accident along Soroti-Mbale highway on Friday.

The accident occurred at Television trading Centre in Opuyo which is about three kilometers away from Soroti town.

Police has identified the deceased as Grace Apio, 30, Grace Atero, 40, and a young boy, Okello Adela all from Odekere village in Ojukot Parish in Morungatuny Sub County, Amuria district.

Apio died on the way to Soroti regional referral hospital while the two died on spot.

The injured people included; Hellen Achipa , 43, Florence Among,40, Christine Ironga, 32, Teresa Asege, 47, Mary Gorreti Aliba, 46, Rebecca Atim , 36, Charles Okello, Joseph Engoru, 22,Tomas Okello , Moses Ebiru, 17, and Christopher Oriokot aged 23.

Juma Hassan Nyene, the East Kyoga police spokesperson said some of the victims were travelling in a Canter vehicle, heading to Otidonga village in Awoja, Gweri Sub County in Soroti district for the traditional marriage.

"They were coming from Odekere in Morungatuny in Amuria district and were heading to Gweri Sub County in Soroti to get dowry since their daughter Eseza Adongo was taken there," said Nyene.

According to the East Kyoga Police spokesperson, the driver lost control and the vehicle crashed into a building. A woman who was in the house selling groundnuts was among the injured.

"We believe that this was due to reckless driving," he said.

Nyene said they are yet to establish the name of the driver whom he said is on the run.

He cautioned the people against hiring cargo vehicles for going to marriage ceremonies.

"These Motor Vehicles are not meant for carrying passengers, they are for cargo, so people should hire the passenger's vehicle for such ceremonies," Nyene said.

He added: "People should also make sure that the car they are using is in a good mechanical condition so that incase of anything, they are safe."

Stephen Okwii, one of the survivors speaking from his hospital bed said that after he realized that their vehicle had started zigzagging on the road, he jumped off and was injured.

RDC Soroti, John Stephen Ekoom and his district chairperson, George Michael Egunyu rushed to the scene and their vehicles were among those used for ferrying the accident victims to Soroti regional referral Hospital.


In the related development, the vehicle carrying four occupants overturned along Katakwi/Soroti road adjacent to Wera Market in Amuria district on Thursday afternoon.

The vehicle double cabin, overturned a few meters away from where another car knocked dead a student two weeks ago.

Cuthbert Okedi, an eye witness said the accident occurred at around 2:45Pm.

Semi Sambwa Suleiman, the OC police post Wera however, said the accident was minor although the vehicle which is in their custody overturned.

The LC-3 Chairperson Wera sub county, Samuel Patrick Ocen says the car which was heading to Soroti from Moroto is suspected to be that of a non-government organization(NGO).

Okedi and Ocen are asking religious leaders to conduct prayers for the place because of the common incidents of accidents in the same area.