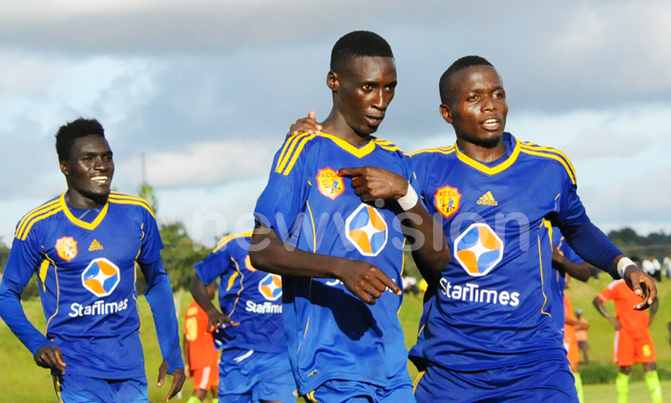 It was almost unimaginable that Mike Ray Mutebi's side would falter.
A week ago KCCA FC looked comfortably on course for an eleventh league title.

With a nine-point lead and their closest opponents Vipers and Express unstable that time, the title was indeed KCCA's to lose.

It was almost unimaginable that Mike Ray Mutebi's side would falter. Everything was simply in favour of Uganda's best facilitated team.

The last seven days have however seen a turn-around with KCCA losing two consecutive games and things seemingly spiralling out of control.

That the losses were to lowly sides Simba and The Saints has raised questions about KCCA's title hopes.

Matters are not helped by the fact that KCCA, who face defending champions Vipers today, also have heavyweights Express and Villa together with a stubborn Sadolin Paints to deal with in their home straight.

Mutebi's efforts to solve the equation to his first ever premier league title is even further complicated. Vipers has two games in hand while Express still have one.

Mutebi acknowledges the tough task ahead and the fact that they blew their chances against Simba.

"Against Simba we just failed to convert our chances. The remaining games won't be easy. We need to be well prepared especially for Vipers."
KCC FC coach, Mike Ray Mutebi
While Mutebi doesn't seem troubled, others in the club insist he is the reason the team is stumbling.

"There is absolutely no reason a team of KCCA's stature should have lost to such lightweights at such a critical time. Mutebi is losing it. He has the best players. It is also the best facilitated team," complains long term fan Grace Okanya.

Questions are being raised not only about his choice of tactics, but also lack of a consistent line-up.

His 3-5-2 approach has been blamed as not rhyming with his players.

"It is too draining. We would be more comfortable with the 4-4-2," noted a player.

"You never know who is going to be on the starting line-up. At times we just have to protest before players like Derrick Nsibambi and Paul Mucureezi are brought on," says Okanya.

Okanya also wonders why players like Ceaser Okhuti, on whom KCCA spent a fortune, and 2012-13 top scorer Herman Wasswa are not fielded regularly.

There is also talk of Mutebi side lining players recruited by expelled coach Sam Ssimbwa. That some of these players are actually the best that the team has, has not helped matters.

The club's fans are not happy with their lack of a link with the club's chairman Julius Kabugo. Efforts to get in touch with Kabugo were futile.

"Management is out of touch. They simply have no idea with what's happening on the ground," states Okanya.

This all comes after a promise from KCCA Executive Director Jennifer Musisi to have the team well catered for.

Musisi dreams of the day KCCA will be one of the top teams on the continent.

"You have my full support. I will always ensure that the team's needs are well catered for even if it requires delaying other needs," she stressed at a meeting with the team two years ago.

Musisi was well aware of the superb PR that a winning football club would have on the city.

From the look of things at Lugogo, it seems some people have other ideas.