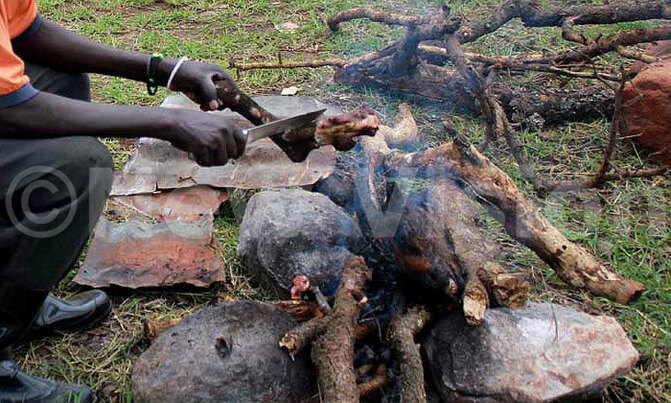 "Table manners here mean reserving the meat for last," says John Obi.
LUNCH-TIME IN UGANDA

Time check: 1pm. In Uganda-speak, that is lunch time. Today, we are in a market place, locally called katale (central Uganda) and if you are in the eastern part of the country, the locals call it Eitale or Okison.

Interestingly, if you played around with the latter 'Okison', you should be able to come up with the word 'sokoni', which means market in Kiswahili.

Back to the katale . . . the trick is to sneak under the tree shade and make yourself comfortable on an improvised stone or brick for a seat and brace to eat huge portions of beef, millet bread, chicken and potatoes.

"Table manners here mean reserving the meat for last," says John Obi.

"And you risk being the gossip in the village if you eat eboo or dodo while dining here. Some have died bachelors! " he warns sheepishly.
After being tipped about the etiquette, Robert, Professor and I order for a whole chicken which leaves our pockets sh15,000 short. The dressed chicken wafts the air with a mouthwatering aroma that could lure Joseph Kony out of his hideout.

The bird is made to lie on its back like a tourist sunbathing at the beach. When it is turned upside-down, the fats, liver and gizzard snuggle into the fire.

Pregnant with appetite, we take a walk around the other tree shade restaurants and steal glances at diners. They are pinching off pieces as big as an egg. Thumb a hole in it and fill it with soup before swallowing it. Peppered, some eyes are left welled.

Seasoned sippers have their meal with a calabash of ajon (millet beer). Obi explains that if kola nut is what words are eaten with in West Africa, in Teso, it is ajon.
In thirty minutes flat, our portion is ready. Fresh leaves are picked from a nearby tree. The bird is chopped into five pieces and action begins. One picks a thigh, another goes for the breast.

And as if we have a deadline, in ten minutes flat, there is no evidence the bird had ever lived. Next time it is lunch time, don't ignore these weekly markets.