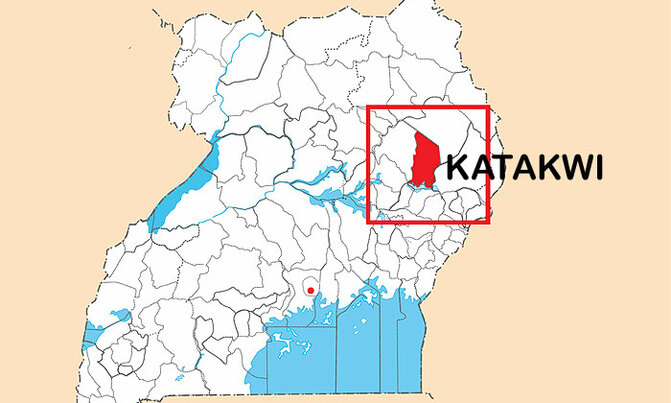 According to police, the killer soldier returned home unexpectedly.
A UPDF soldier has stabbed to death a man for allegedly sleeping with his wife in a village in Katakwi district.

Paul Lokong, who is attached to the UPDF 4th Division in Gulu district, is being held at Katakwi Central Police Station for committing the crime. His wife, Helen Christine Akori, is on the run.

East Kyoga Police Spokesperson, Juma Hassan Nyene, said Lokong reportedly caught his wife in bed with the man at around 3am local time Tuesday.

Enraged, the soldier then fought with 39-year-old Misaki Alunyon, during which he stabbed him with a knife, before later succumbing to his injuries.

The slain man hailed from Wera village but the incident happened in Osudan village in the same parish of Alogook which was created recently from Aliakamer parish.

According to police, the killer soldier returned home unexpectedly, only to catch his wife red-handed. She is said to have fled during the deadly scuffle that ensued.
DPC of Katakwi, Bashir Siriba, said investigations are going on. (Credit: Emmanuel Alomu)

The acting LCII chairperson of Alogook, Wilbrode Okot, said Alunyon's body was found some 15 metres from the soldier's home with deep cuts on the shoulder and in the chest.

"I suspect that after fighting, Alunyon might have tried to run but collapsed and died of his injuries near the soldier's compound," Okot told New Vision.

The dead man's relatives reacted angrily after learning of the news of their own.

They stormed Lokong's grass-thatched house and uprooted four pillars of the structure and also pulled down the grass roof. At that time, the soldier was reportedly hiding in the house.

Local leaders intervened and advised the angry relatives to calm down and not try to take the law in their hands. They obliged.

Amid tension, Police came and picked up the soldier. Investigations are under way, according to the DPC of Katakwi, Bashir Siriba.

The body of Alunyon was still lying in Katakwi District General Hospital Mortuary by Tuesday evening.