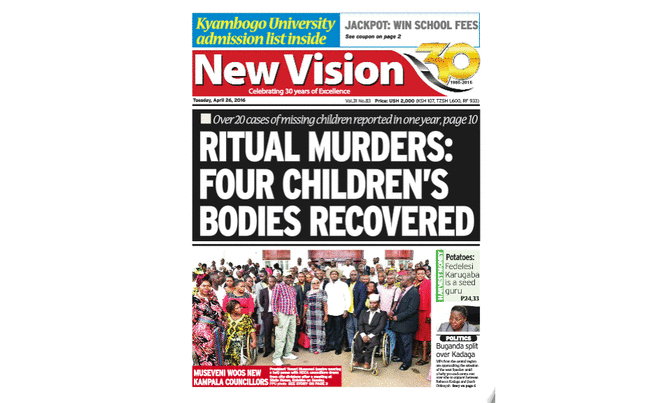 Get your self a copy online or from the street vendor near you
IN THE NEW VISION TODAY, Tuesday, April 26, 2016
In education,
Find the full Kyambogo University admission list inside.

Win sh150m in the New Vision School fees Jackpot.

We give you details on more government scholarships for university education. Do not miss the chance to have free university education yet all you need to know is in the leading daily.
In top news,
We bring you the full story of why the Buganda parliament caucus is split over Kadaga for the seat of Speaker.

President Museveni woos Kampala's new councillors. Find out why the President had to meet the new city councillors and what they discussed.

New Vision gives you the shocking story of the increasing trade in guns on the Uganda-Sudan border. Find out why the trade in illegal guns is booming. Who is selling these guns at a price as low as sh500,000 for an AK-47 rifle which costs sh2.8m ; where are they coming from and who is buying them?
The Al-shabaab leader has been arrested in Somalia. Get details of how he was tracked and arrested.

We have details of how far the economy has recovered from the election slow-down.

There is some relief in South Sudan as the commander and weapons of rebel leader Riek Machar land at Juba Airport. Does this signal the end of the bloody civil war? Do not miss a copy of your favourite paper.

In the Stella Nyanzi nude saga, the Police have started questioning Makerere University staff. Do not miss your copy to know who was being grilled and what the Police has so far found out.
On Mothers Day,
Sunday Vision is celebrating mothers. To have a chance of being published, email a picture of your mother or mother-figure and your special message to her to sunday@newvision.co.ug.

You can also post the picture and message on our facebook page www.facebook.com/thesundayvision



The messages will be published on Mother's Day on May 8 in Sunday Vision. The deadline for sending your messages and pictures is midday on May 4.
In Hoima,
The National Forestry Authority has started surveying boundaries of Bugoma forest reserve. Find out how this will bring an end to a four-year dispute between the forestry authority and Army Veterans. How did the veterans come to own part of the reserve? Find answers in the New Vision.
In Gulu, Lira and Arua,
Lira, Gulu and Arua municipalities have received over sh33b for development. We tell you how the money will be shared among the municipalities and what each will use it for.
In Lira, 63 people have been sentenced to four months in prison for being rogues and vagabonds. One could be your friend, neighbour, lover or relative. So, do not miss the full list in the New Vision.
In Busoga,
The Kyabazinga, Gabula Nadiope, has sworn-in 21 ministers. We have the list inside and what they have promised to do.

The opponent to the Speaker of Parliament, Rebecca Kadaga, has withdrawn the election petition challenging her victory in the February elections. Get the details inside.
In Rakai,
The Police are looking for one suspect after bodies of four children were found in a forest. The first body was brought home by dogs. Get the gruesome details that have shocked residents as they help the Police to hunt for the culprits.
In Her Vision, we bring you:
Win goodies this Mother's Day. Send a selfie with your mother, with a short story on why she is the best to hervision@newvision.co.ug or on Facebook at Her Vision.

In Labour Day series, we explore the explosive issue of whether maternity leave is a right or optional? Several experts give their point of view.

We bring you Christine Kamiti, a woman Mbale's street children call mother. Read her inspiring story on how she has rescued over 9,000 children from death and starvation and what keeps her going.

Fatherhood is a decision. Discover the deliberate steps one can take to become a good father in Parenting with Mama Tendo.

In an interesting opinion, join the debate on whether or not children should be sacrificed at the altar of marriage?
In Harvest Money,
We bring you Fedelesi Karugaba, who has replaced poultry with Irish potatoes in Kabale. She is now counting the money. Read the story and you will be inspired to follow her.

Did you know that you can learn a lot about practical agriculture even in the city? Find out why KCCA has selected Kyanja as an agriculture centre and the perfect learning point for urban farmers.