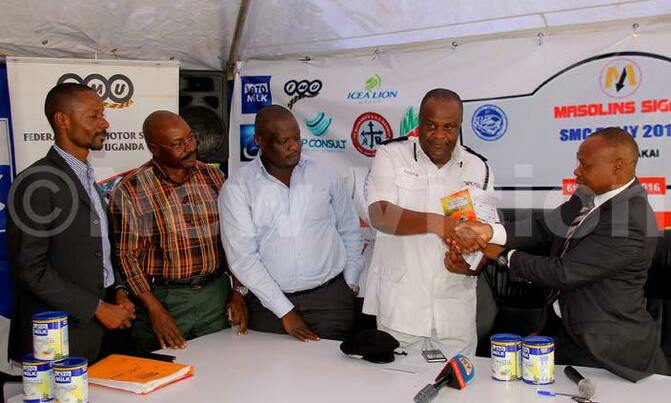 Ponsiano Lwakataka said no driver has ever beaten him on his home turf and he will not allow it to happen
Masolins Signs SMC Rally

Rally driver Ambrose Byona and Ponsiano Lwakataka have confirmed they are more than ready for the Masolins Signs SMC rally next month May 6-8 in Masaka and have cautioned their fellow drivers not to under estimate them.

Byona told the media during the launch of the event at Kololo that in Mbarara he had not yet mastered his Mitsubishi Evo9 he acquired from Kuku Ranjit, but now in Masaka they will feel the heat.

"I'm ready for the event and all fellow drivers watch out for fireworks," Byona stated.
Ponsiano Lwakataka also echoed the same when he said that no driver has ever beaten him on his home turf and he will not allow it to happen.

Meanwhile, determined to promote safety during and after the rally, Uganda Police will provide their ambulances and breakdowns on top of manpower during event.

"We signed an MOU with FMU to make motorsport safe for all and as police we shall provide our ambulances and state of the art breakdown during the event," Kasiima stated.
FMU president Dusman Okee thanked Police for the continued support and good working relationship.

"The Theme of this rally is Masaka Road, you and I can stop this Carnage. We should join hands to save lives and promote motorsport," Okee said.

The two day event which is the third round of the national rally championship (NRC) will have 12 sections of two will be at night.

The rally co- sponsored by Masolins Signs, Lato Milk, ICEA Insurance Group, Fire and Safety Appliances, Mountain Dew, Hotel Bravard and Think IT will cover a total distance of 377.8Km of which 178km will be competitive and 190km transport.