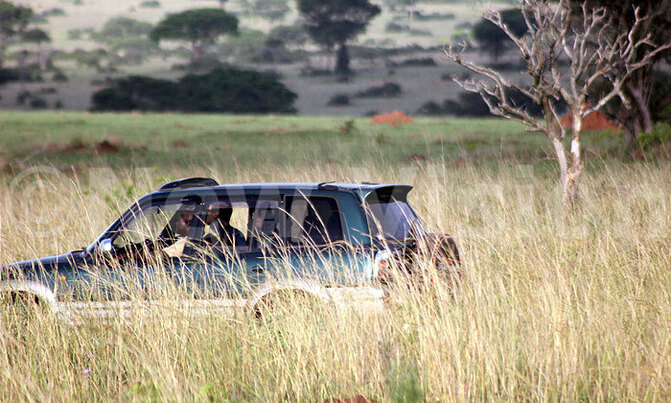 Looking down, I could see the sparse population the further we flew away from Kampala, Jinja and Mbale.
TRAVEL & PLACES

Forget the tedious whole-day travel from Kampala to Karamoja. A flight to Kidepo Valley National Park (KNVP) on board AeroLink's twin engine flight took us 90 minutes.

The plane went gliding before it hit air pockets and banked while the pilot twisted the yoke (steering wheel) of a ten sitter which costs $6600. The planes leaves Entebbe at 2:00pm and returns before 4:00pm the next day to pick you.

"If you look down," tipped the flight Captain Tina Draku five minutes after taking off. "You will see Lake Victoria, the River Nile, Mabira Forests, Mount Elgon and Lake Kyoga."

"Take heed - on this aircraft, it is self-service," cautioned Draku while serving us a cup filled with grey Tropical sweets. "There is no space for air hostesses. Help yourself to the water in the rear - it is good for your health."
Later I had flight lesson when I learned that the yoke (steering wheel) is what controls the pitch and rolling of the aeroplane. And that our flight will take between 90 minutes. Flights to Kidepo can be arranged at either Entebbe International Airport with Eagle Air or in Kajjansi located on the highway between Kampala and Entebbe.

Tucked in the cockpit with a co-pilot Jeff, Draku went about her business with practiced expertise and eloquence. Her neatly manicured fingers could be seen touching a button here and scanning the flight plan there. Her voice was loud and clear while announcing our location to the Control Tower in moss code.

"If you feel sick (like vomiting) there are paper bags in the seat pockets," cautioned Draku. "But remember to keep your seat belts fastened and enjoy the entire flight."

Looking down, I could see the sparse population the further we flew away from Kampala, Jinja and Mbale. Visually Tororo, Teso and Karamoja have wide expanses of land which is bear save for short grass, granite rocky out crops and Lake Kyoga with finger like projections. Gardens of sorghum, millet and animals grazing are visible from the air.

Time check 2:00pm (in 90 minutes flat) the Cessna Twin engine 310 was smoothly touched down Kidepo murram airstrip. This is where President Museveni and British minister Linda Chalker nearly lost their lives with Captain Mike Mukula on board a Speed Bird private charter. After taxing, the machine failed to take off as the runway was wet after a brief down pour there.
Forget the aviation history; a 4WD van drove some of us to the Uganda Wildlife Authority (UWA) bandas that cost sh50, 000 a night. A meal goes for sh10,000 and beers are at sh4000. The menu there is not lengthy or sophisticated as it comprises of maize meal, rice, potatoes with either beans or beef.

The "well-heeled" from South Africa, Kenya, Rwanda and USA opted for Apoka Safari Lodge whose management treated them to a Sundowner party. The beer was frozen cold and went down well with Western snacks like of sand witches, apples and bananas. This treat coincided with the darting of lions by Vets from USA.

I visited the cottage 7 where a friend Brain Senyonga was spending a night. The manager told him guests like it because it is the furthest you can be from the lodge and the closest to nature while there. November being a low season the rates of accommodation drop a fraction lower. Sometimes the Karimojong staff is too attentive to the needs of their guests as they are treated to a game walk. The bath tubs are out doors.

At 4:00pm we had a game drive in one of those spacious 4WD vans with a UWA ranger Zakariah Logwe. He had tall tales about his names which means a local brew popularly known as kwete.
"When I was born my mother did not have breast milk," narrated Logwe. "Droughts are a common occurrence here. But I was fed on Logwe to survive. That is how I was named after the popular drink. That is why I am a strong man."

Shortly after we spotted another van with those on board stalking armed with cameras, dart guns and all sophisticated to rock in a distance.

"In the evening it normally climbs down and walks about before nightfall," revealed Logwe.

Asked about the ongoing lion darting exercise UWA staff Stephen Nyadru explained that it is a conservation act which is done to monitor their health.

"This a regular exercise to monitor the cats health," explained Nyadru. "After being darted the lion staggers for about one hundred meters before collapsing on all fours."

This particular one did not get dazed. And John Lemukol a resident within the park testified that the lions have been lately less active and losing weight. The foreign media was shooting every detail. But when I focused my Canon a bully European woman threatened to smash it and ordered me to get details from Uganda Wildlife Authority (UWA.)

"I suspect it's because of a short supply of their favorite meal of antelopes which migrate across boaders;" whispered Lemukol. "The bad climate makes animals migrate to Kenya and South Sudan They know no boarders."

Guess what? Tree climbing lions of Ishaha and Tanzania have been spotted in KVNP. This is in addition to elephants, zebras, 450 bird species, dry river beds, reptiles and a rugged panoramic landscape.

The 1442km KVNP tour climaxed with a tour of a Manyatta which is a window in to how the sparsely populated Karamojong have for centuries lived along with wild animals. Ekaskol an elder of repute says when confronting a lion never turn your back. Mt. Morungole and Mt. Lotuke offer a hilly terrain suddenly broken by Narusi/Kidepo valleys.

"Keep eye contact and light a fire," cautioned Ekaskol. "Lions never charge at humans unless it is in self-defense. They do not like human flesh except if they age and cannot hunt their prey anymore. Human meat is not tasty to them. Nature has it that the females do the hunting as the males and the cubs dine."

The people in this Manyata are different from their tribe's mates who supplicate every visitor for loose cash, clothes and food. Their drama club of 30 energetic people weaves artifacts, curves stools and treats guests to music and dance for sh50000 per visiting group. I have been to KNVP more than three times but I will not hesitate to go back there. A tent goes for sh20,000 per night