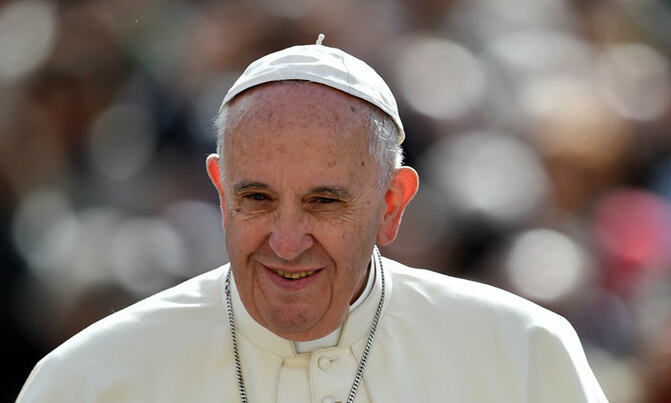 He urges Europeans to welcome and not reject people who are fleeing war and poverty.
Pope Francis has repeatedly spoken out about the refugee crisis that has overwhelmed and divided Europe, urging Europeans to welcome and not reject people who are fleeing war and poverty.
Here are some of his main quotes, ahead of his upcoming trip to the Greek island of Lesbos, on the frontline of Europe's migrant crisis:
- Indifference -- On July 8, 2013, during his first trip outside Rome since being elected, to the tiny Italian island of Lampedusa, he says: "The culture of well-being makes us think about ourselves, renders us insensitive to the cries of others.
Lampedusa is a major landing point for asylum-seekers entering the European Union, with many fleeing impoverished and war-torn countries of Africa, the Middle East and Southeast Asia.
- On September 24, 2013 he says that "migrants and refugees are not pawns on the chessboard of humanity."
- On October 4, 2013, after 300 African asylum-seekers are feared dead off Lampedusa, Pope Francis calls for "a day of tears" for a "savage world" that ignored the plight of refugees.
- In April, 2015 after 700 migrants are feared drowned in the deadliest migrant shipwreck yet in the Mediterranean he urges Europe's leaders to "act decisively and quickly to stop these tragedies from recurring."
Urging the faithful in St Peter's square to pray for the victims, the pope adds : "(They are) hungry, persecuted, injured, exploited, victims of war. They are seeking a better life, they are seeking happiness."
- Papal welcome -"Dear migrants and refugees, each of you carries a story, a culture and precious values," Francis says in January, 2016, when welcoming 5,000 migrant worshippers at a special mass at St Peter's in Rome.
"Alas, many of you have experienced misery, oppression and fear" he says.
- "O Cross of Christ, today we see you in the Mediterranean and Aegean Seas which have become insatiable cemeteries, reflections of our indifferent and anaesthetised conscience," he says at Good Friday prayers on March 25, 2016.
Two days later, on Easter Sunday, he says: "The Easter message of the risen Christ... invites us not to forget those men and women seeking a better future, an ever more numerous throng of migrants and refugees... fleeing from war, hunger, poverty and social injustice... All too often, these brothers and sisters of ours meet along the way with death or, in any event, rejection by those who could offer them welcome and assistance."
- Traffickers -- The pope has repeatedly spoken out about human trafficking, railing January 2014 against "the merchants of human meat who want to enslave migrants".
- In September 2013: he calls for disused Catholic convents to be used to house asylum-seekers instead of being converted into luxury hotels, speaking during a visit to a refugee centre.
"The Church does not need to turn empty convents into hotels to earn money. Empty convents are not ours, they are for the flesh of Christ, for refugees," the pope tells refugees and staff.