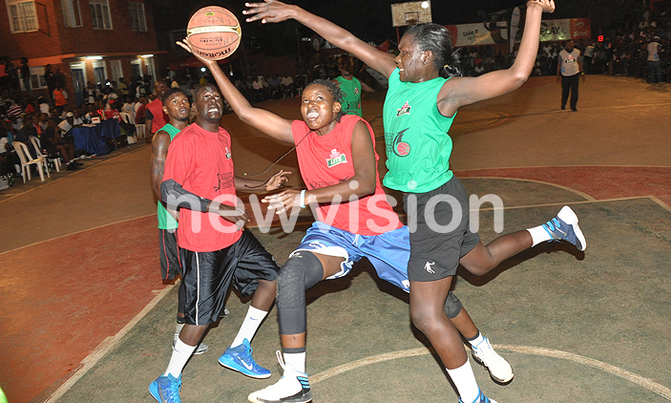 FNL once again attracted a pool of sponsors that made it all work despite a chaotic start
Friday Night Lights

Results

Celebrities 29 Media 20

Semis

Jonah 55 Koma 51

Blick 58 Kami 55

Final: Jonah 67 BLICK 57

The Sixth Coming of Friday Night Lights (FNL) will be remembered for some unique reasons and Friday at the YMCA saw this edition of the event concluded with an unforgettable champion.

Team Jonah were so poor in the group stages, very few gave them a chance of surviving the quarterfinals. Yet Jonah Otim's men pulled a rabbit out of the hat with three straight knockout victories, concluding with a 67-57 victory over Team Blick in Friday's final at the YMCA.
Fans compete in the Rwenzori shooting challenge
From three defeats and zero wins in the group stages, Jonah won three straight when it mattered most and the shocking turn around was writ large on the faces of Blick's players after the final buzzer of a gripping final that turned decisively in the last three minutes.

Like everyone else, they could not believe what had just happened.

Brian Odour was the star of the final, snatching a team-high 23 points and 12 assists in 21 minutes for Jonah. Skipper Otim added 14 points while the explosive Bazz Kitanda overcame foul trouble to score 13 points for the new champions.

Blick had eliminated the fancied Team Kami in the semi-finals and they looked in total control during the first half of the final, with Sudi Ulanga (26 points) turning the match into a personal clinic.

Uganda Silverbacks and City Oilers coach Mandy Juruni rolled back the years with 13 points for Blick, who nonetheless collapsed when the game was on the line, combining missed finishes around the rim with costly turnovers.

It all added up to a rowdy finish as the capacity crowd got overwhelmed with Jonah's improbable title ambush. The champions won a sh3m cash prize with the runners up getting sh2m.

FNL once again attracted a pool of sponsors that made it all work despite a chaotic start that had threatened the annulment of the event. Still, the future is not certain and Cedric Babu of Kinetic Management Group (one half of FNL) said as much in his season-closing remarks.

"I have some things to sort out first with my brother Tom (Ocyamuringa)," said Babu as he pondered the idea of FNL Season 7.

Whatever happens, the past six years will always be cherished by FNL's devoted following.