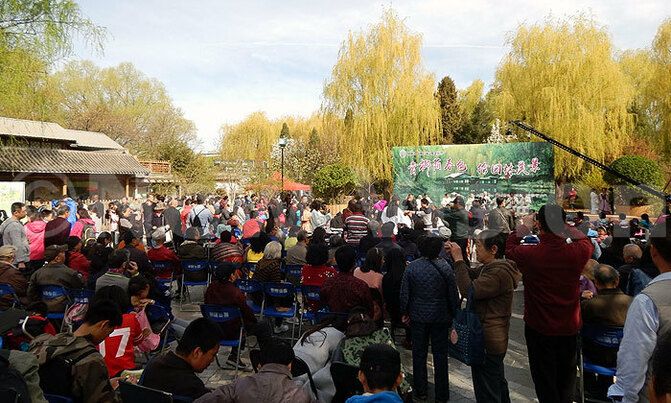 The Qingming Festival coincides with the sprawl of spring that falls just weeks after the biting cold of winter
CULTURE & TRADITION

Every year, Chinese families take a break to honor their ancestors in a tradition known as the Qingming festival or Tomb-Sweeping Day.

For three days since last Saturday, millions of Chinese people took part in activities to pay tribute to their departed loved ones by cleaning gravestones, laying wreaths and offering gifts.

The practice bears some similarities with African traditional beliefs still popular today, including the annual funeral rites held in memory of the deceased.

Held on April 4 or 5 every year, the Qingming Festival coincides with the sprawl of spring that falls just weeks after the biting cold of winter, making the tradition a huge boost for China's tourism.
A couple takes a photo of blossoming flowers

Origins of Qingming

Qingming Festival has its origins in a story of Jie Zitui, a loyal servant in the Seventh Century BC who saved his master's life by cutting a piece of his own flesh and serving it to him.

Popular history has it that after many years, the master sought to reward Jie, who was living in a forest but could not be traced.

Ordering that the mountain be set on fire, Jie would be found burnt to death, causing the master so much torment that he ordered that a temple be built in memory of his most loyal follower.

In addition, it was decreed that no fires be lit on the anniversary of Jie's death and people had to eat their cold food on that day, or the day of Hanshi.

Subsequently, the Chinese people would start visiting his tomb to pay their respects to him, giving birth to a new tradition.
The entrance
Fashion show

A gazetted national holiday, Chinese people get time to return to their hometowns to pay tribute to the departed or take time to visit places from where they do reflection.

In Beijing, one of the places where activities to commemorate Qingming were held is Liuyin Park located on west of Andingmenwai Street in Dongcheng district.

Visitors put on Chinese traditional attire, carry willow branches to ward off evil spirits and get 'blessings' with sprinkles of water from willow branches.

Students and children practice the ancient art of calligraphy (pictured below) and hone their craft in nature drawing reflective of the popular tradition.


Flowers of different types and colours dot around the park, offering a relaxed atmosphere as visitors seek to reflect and reconnect with their departed loved ones.

The willow tree (pictured below), an important part of the tradition, is revered for its perceived powers to fend off spirits of the departed.
In ancient texts, several willow species have been popular references in the fields of medicine, literature, religion art and culture.

Visiting African journalists pose for photographs at a spring outing inside the expansive Liuyin Park during the Qingming festival.

Old and young, performers recite poems, play traditional musical instruments, sing dirges in memory of the departed and showcase ancient traditional attire.

A team of experienced performers take part in practicing the delicate moves of the graceful martial art, Tai Chi (as you will see when you scroll further down). The activities radiate sorrowful but sanguine reflection on death.

This year is the sixth time Qingming has been held as a national event, after the Chinese government revived the ancient tradition whose observance was dying in some parts of China.
Time for some fine art
Kids perform
A loyal fan attends the festival
A performer on stage
And another . . .
Planting a willow
Tai chi in progress
A woman sells artifacts
The writer dressed as an ancient scholar