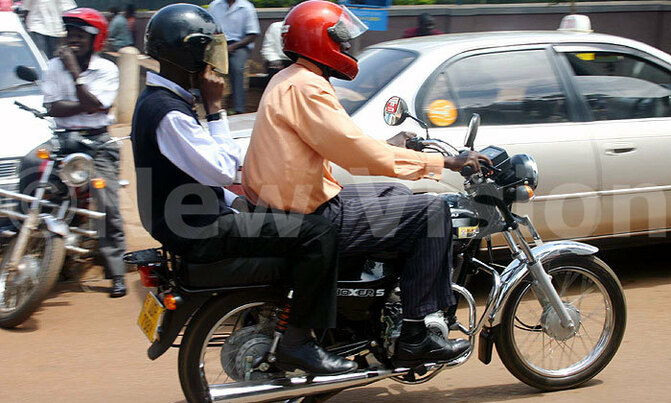 "Alcohol consumption impairs judgment which explains the correlation with road injury."
In addition to the current unpopular drink-driving tests , a new report recommends drink-riding tests to target boda-boda riders.

As of December 2014, a total of 64,000 boda-boda riders had been registered by Kampala Capital City Authority. But as the authority's spokesperson Peter Kaujju admits, there is no definite number of boda-bodas operating in Kampala as many never registered.

The February 2016 report by Nazarius Tumwesigye, Lynn Atuyambe and Olive Kobusingye from Makerere University School of Public Health and funded by the World Bank Global Road Safety facility grant investigated the factors associated with injuries among commercial motorcyclists in Kampala. It cites alcohol consumption as one of the major independent causes of boda-boda injury.

"Alcohol consumption impairs judgment which explains the correlation with road injury. Consumption of alcohol can also work as a proxy for addictive behaviors such as smoking which have been found to be strongly correlated with motorcycle injuries," states the report.

Currently if one is found drink-driving, a fine worth sh200, 000 is issued. But under certain circumstance and to the discretion of the traffic officer one can be referred to court and the charges there are quite higher.

The study considered a sample of 289 for both the cases at the five select hospitals of Mulago National Referral hospital, Kibuli, Nsambya, Rubaga and Mengo and at the stages where the cases operated from.

The study findings show that out of the 289 cases at the different hospitals, 29.8% admitted alcohol consumption. Whereas at the stages where these cases operated from, 18.0% of the riders also admitted to the same.

The percentage of accidents attributed to boda-bodas has been increasing annually and this is ranked as the leading cause of death from road accidents. Injuries from accidents in Mulago national referral hospital as highlighted in the study make up approximately 4.2% of the total hospital budget and 62.5% of the hospital's budget to surgery.

The report also highlights a number of other factors such as having a driving permit, fewer driving experience, not changing a motorcycle in the previous year and riding a longer time in a day and sharing of a motorcycle.
Impounded motorcycles after a police crackdown. (File photo)

With many of the boda-boda riders sharing motorcycles, the report indicates that this most times leads to non commitment to service the motorcycle, lack of experience of riding and lack of actual experience with that particular motorcycle.

For most of the boda-boda accident cases according to the study, the biggest percentage of the riders have up to primary education. But equally important is the fact that most of these lack knowledge on road safety rules.

Much to their own and other road users vulnerability, most of the boda-boda spend between 14-19 hours on the road. More to that, up to 57.1% of the cases and 62.3% of those at the stages did not have driving permits.

The biggest percentage of motorcyclists were aged between 25-29 years and found to have never undertaken any kind of training. In a week, according to the figures, the biggest percentage of boda-bodas(41.2%) earn between sh50000-sh79,999.

"Sensitization programs should raise more awareness against sharing motorcycles, working long hours, working at times when visibility is low, and alcohol consumptions," recommends the report.

The Police director in charge of traffic and road safety, Dr Stephen Kasiima while responding to the recommendations explained that regulating boda boda riders still remains a major challenge since there is no organised platform to which they subscribe.

"Motorcyclists unlike drivers can maneuver through traffic roadblocks and the fact that they have one number plate chances of missing it are very high," he said.

So far, at least 200 motorcycles are impounded in just Kampala Metropolitan on different traffic offences. This strategy has helped ensure that no one gets it back before presenting a driving license.

He further revealed that some of the boda-boda riders use so many other drugs such as marijuana and cocaine which the current breathalysers cannot detect.