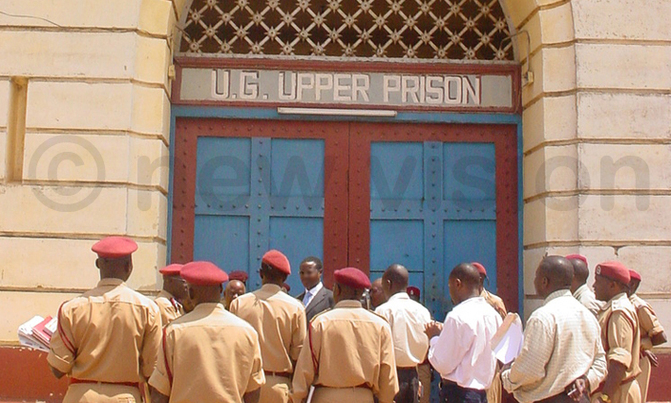 Supreme Court ruled that all death sentences not carried out in three years are automatically commuted to life imprisonment
Inmates on death row at Luzira Maximum Prison have petitioned Parliament over what they claim is the current flawed system in the Judiciary, which sees many poor Ugandans with no financial ability to hire quality lawyers sent to the gallows.
In their petition channeled through Serere Woman MP, Alice Alaso, the Luzira death row inmates contend that the policy of lawyers on state briefs, though well intentioned, is actually turning out to be a poisoned chalice.
State brief is where government pays a lawyer to represent an indigent person accused of an offence that can fetch him a death penalty. This is a requirement under Article 28 of the constitution as part of a right to a fair hearing.
"These inmates complain that lawyers on state briefs simply go through the motion while representing them. They hardly meet them and go to court once or twice because the state does not pay them well," Alaso told the House.
Alaso visited Luzira prison 'condemned section' recently as part of her research work on the Law Revision (Penalties in Criminal Matters) Miscellaneous Amendment Bill, 2015 - a private members Bill.
The Bill seeks to amend a raft of sections in the Penal Code Act, Trial on indictments Act, UPDF Act, and Anti-terrorism Act relating to mandatory death penalty following the landmark Susan Kigula case.
In the Kigula case judgment, the Supreme Court ruled that all death sentences not carried out in three years are automatically commuted to life imprisonment.
Therefore, the Bill seeks to remove all reference to mandatory death penalty prescribed in the above Acts of Parliament and restrict application of the death penalty to the "most serious crimes" by converting the maximum penalties prescribed in those Act into imprisonment for life.
According to Alaso, the Bill also seeks to give effect to the commitment made by Government to the United Nations following the first periodic review of Uganda's human rights record, to consistently apply the rulings of the court by converting all death penalties not carried out within three years to imprisonment for life.
"The inmates want lawyers on state briefs to be paid well in order not to compromise their defense," Alaso noted.
The inmates also complained about missing record of judgment in courts of first instance which has in many times impended their attempt to appeal their conviction and sentence.
Inmates told Alaso that absence of records of judgment means that the only way they can have their convictions and sentences overturned is through a retrial which they admitted is almost impossible.
According to Ugandan Prison Services spokesperson, Frank Baine, there are 297 inmates at Luzira prison on death row.
Those convicted by military court marital, Alaso said, the process of appeal as provided for under the UPDF Act is as unwieldy and convoluted.
"There are inmates who have been in Luzira on death row since 1999 and attempts to appeal their conviction are problematic because of the UPDF Act," Alaso said, without delving into the sections that make appealing against convictions hard.