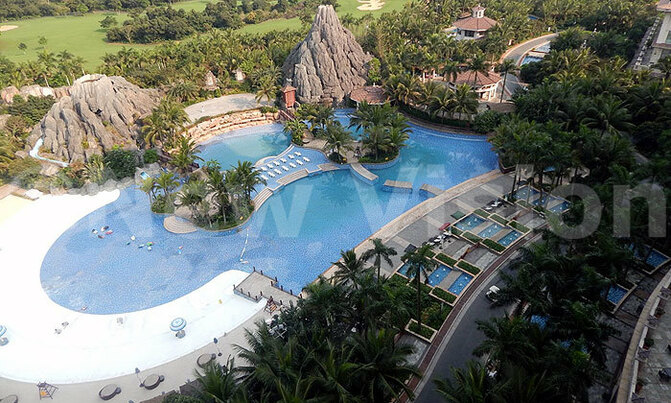 In ancient times, Haikou was known as a 'port city.' Today, it is known as a 'coconut city.'
After three weeks in the receding winter of Beijing, we travel to China's southern province of Hainan, a unique region built to standard as an international tourist destination.

It takes an average flight time of four hours over a 2,800km distance from Beijing to Haikou, the capital city of Hainan province.

Right from Haikou Meilan International Airport, radiant flower gardens and coconut palm trees dot around road islands on the city streets. Haikou is warm and the air is fresh.

With a blend of tropical climate and coastal scenery, Haikou is the most sought-after tourist city in Hainan and is rated as having the best air quality in China.
The city covers a land area of 2,304.84 square kilometers with a coastline of 136km and has a population of 2.2 million residents. Most of the population comprises of Han Chinese.

In ancient times, Haikou was known as a 'port city.' Today, it is known as a 'coconut city.' Its existence as a trade hub in Asia dates back to the Song and Yuan dynasties (960 and 1368).

Haikou was formerly a part of Guangdong province and in the 13th century served as a military post under the Ming dynasty (1368-1644).

Arcaded streets

Haikou was elevated to a city status and made the capital of the newly created Hainan Province In the late 1980s. Since then, the city has transformed but kept most of its ancient sites.

Haikou old town contains the oldest buildings (arcade streets) in the city with a mixture of styles of Portuguese, French, and Southeast Asian influence.

The arcades were built in the 1930s and cover a 2km radius. More than 600 arcades have been preserved and beautified in six phases. The same style exists in Taiwan, Singapore and Europe.

The arcade streets are littered with shops selling Chinese artifacts, medicine, silk and bespoke clothes, incense, candles, paper, ink and coconuts.

Most of the arcades stretch along Zhongshan Road, built in the Qing dynasty by Emperor Kangxi in 1662 but later renamed Dajie. In 1924, the road was broadened and renamed Zhongshan.

Luxurious resorts

The abundant sunshine, pristine views of the sea, beaches, coconut palm trees, hot springs, volcanoes and mangrove forests are some of the attractions that attract visitors to Haikou.
In 2014, Haikou city attracted over 11.3 million overnight tourists from within China and abroad. Most visitors are retirees and vacationers fleeing harsh winter in parts of China, Asia and Europe.

Leisure parks, luxurious resorts, hotels, restaurant chains have sprung up around Haikou, attracting visits by celebrities from across the globe.

Haikou is billed as having the highest life expectancy rate in China, with a significant population of people living beyond the age of 100.

"For one to be regarded as 'old man or woman,' they must be above the age of 100. People below the age of 70 are described as 'middle-aged'," says Gan Dafan, a famous tour guide.

Life in Haikou is a fusion of traditional, ethnic and foreign cultures, from historical sites to ancient tombs, tablet inscriptions, stone sculptures, performance streets, opera shows and pop culture.
READY TO DIG IN: Hainanese chicken rice

Some of the renowned cultural attractions include Five Officials Memorial, Tomb of Hairui and Qiujun's Tomb, Traditional Stone Village and the 1942 Street for performance shows.

Geography, trade history

Haikou sits at the forefront of south China's economic development belt and shares geographical proximity with Hong Kong, Macau and many countries in South East Asia.

In the recent past, Haiku was redeveloped as a port during the Sino-Japanese War when the Japanese invaded and occupied Hainan Island from early 1939 to 1945.

Much of its naval architecture has been preserved and Haikou remains Hainan's main port, handling more than half of the island's total trade.
Le Merridien Resort overlooking the South China Sea

Smart City

Besides being a port and transit point on the Maritime Silk Road, Haikou is also a cultural, political, economic and communication hub for Hainan Province.

Traffic is light and majority of residents walk or ride home or to work on electric motorbikes along neat tarmac roads.
Hotsprings at Mission Hills Resort
The writer poses at a statue depicting Haikou interacting with the West