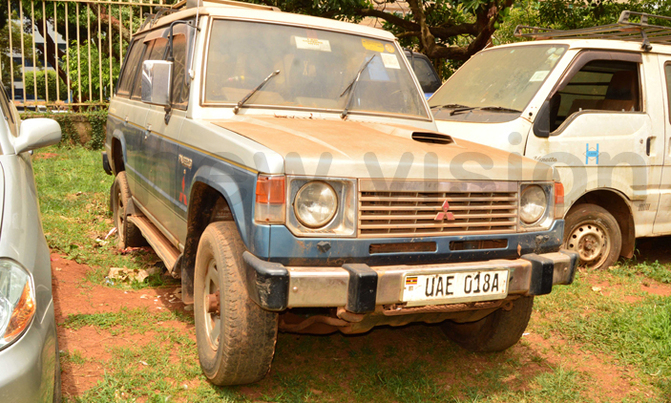 The car accelerated and knocked Kasiwukira down, leaving him bleeding profusely
An eye witness has identified a car which allegedly knocked dead city businessman, Eria Ssebunya Bugembe alias Kasiwukira.
Appearing before Justice Wilson Masalu-Musene, the head of Criminal division yesterday, Richard Komakech, 33, described the car as a Pajero Mitsubishi registration number UAE 018A.
Komakech told court that Kasiwukira was knocked down by a vehicle that he had earlier seen parked at the side of the road as he escorted his child to school.
The tinted silver and dark blue Pajero is parked at the High Court parking yard and Komakech identified it and showed it to the judge.
He was testifying as prosecution witness number six under the guidance of state prosecutor Samali Wakhooli. Komakech is a resident of Muyenga.
He added that when the deceased came onto the road jogging, the said car slowly moved towards him, then accelerated and knocked him down, leaving him bleeding profusely.
Komakech said the vehicle then proceeded towards Kabalagala. He was testifying in a case where the widow of slain businessman, Sarah Nabikolo, 62, her young sister Sandra Nakungu, 36, and a Police officer Ashraf Jaden, 40, are accused of killing Kasiwukira.
When asked whether he saw some people immediately after the incident happened, Komakech said he saw eight people ahead of him.
The accused were indicted for murder contrary to section 188 and 189 of the Penal Code Act (PCA). Any person who is convicted of murder faces a maximum penalty of death.
On October 17, 2014, Kasiwukira was reportedly murdered at about 6:00am in Muyenga diplomatic zone. He was knocked down by a speeding car as he jogged in the neighborhood of Muyenga. Kasiwukira was a member of Kwagalana Group.
The judge adjourned the case to today when the defence is expected to cross-examine the witness.