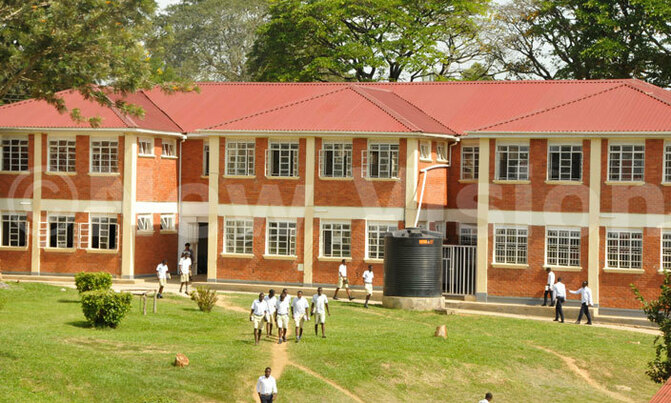 This Easter season offers great opportunities for smart entrepreneurs to make lots of money while people continue with the celebrations.


Should you ever meet any person referring to himself as the 'bull', just know you are in the presence of student or former student of Mbarara High School.

The school is among the most prestigious schools in Uganda, outstanding to its excellent academic record. It is located on Ruharo hill the seat of Ankole Diocese and it is next to the Bishop's house.

Right on the school white painted gate, is an inscription of its motto; Mugume Namaani loosely translated as -Be strong and courageous, picked from the Bible, in Joshua 1:6).

Mbarara high school is the only school in the sub-region, with a Cathedral as their chapel.

A sculpture of a bull is mounted just in front of the main building.



History

It was established in 1911 by Anglican Christian missionaries affiliated with the Church of England. The land on which the school was built is owned by Ankole Diocese, of the Church of Uganda. The school started as a Junior Secondary School and was one of the six junior secondary schools in Ankole district.

The other junior secondary schools were; St.Joseph and St.Hellens in Nyamitanga in Mbarara; Bweranyangi Girls in Bushenyi, St. Georges Kagongo in Ibanda, and Kitunga in Ntungamo district.

The school is currently one of the biggest High Schools in Uganda with over 1,700 students. While the church of Uganda has the ownership and control of the school, the government of Uganda, through the ministry of education, contrubutes to the school's budget

New Developments

Mbarara High school has sufficient facilities to accommodate up to 2,000 students: There are 13 dormitory blocks, 07 science laboratories, 03 ICT laboratories, 04 workshops for vocational subjects.

The school's head teacher, Benon Twinomujuni applauds the government of Uganda, which recently, with support from the African Development Bank (ADB) extended a big grant for multipurpose buildings which included three science laboratories, one ICT laboratory, a library, four classrooms and eight self-contained houses for teacher.

"All the laboratories have been fully stocked with furniture, chemicals, apparatus and 60 brand new computers with internet. The facilities have also decongested the school.

The sh3.7bn ADB IV project construction work was commissioned by President Yoweri Museveni on April 13, last year.

Current status

According to Twinomujuni, the school has grown to greateness as a result of excellent academic performance at both Ordinary and Advanced levels, coupled with proper maintainance of the school facilities, discipline and able management.

"The school operated on a strict code of conduct and tight academic schedule which is ably done by a strong team of experienced teachers and support staff," the headteacher says.

Staff establishment

Currently, the school has 80 teachers and enough room for expansion.

The school has registered outstanding perfomance in co-curricular fields at national level such as football, rugby, debate, basket ball, athletics, science and technological innovations

Challenges

Much as they have registered notable achievements, the school also has some challenges especially of insuffient sports facilities.

The school has plans of constructing a sports complex to cost over sh800m, and a swimming pool to stop students from going to River Rwizi which has claimed over 30 students in the past decades.

The school also needs a tennis courts, swimming pools and more soccer pitches in addition to the existing two. It also wants modern MDD facilities like a brass band.

Voices

Mugume headmaster Mbarara Junior and a member of PTA: I have been here for a long time. It's now 19 years. As parents and the community, we are impressed by the development and perfomance trend of Mbarara High school. As Mbarara Junior School, we are grateful for the support we always get from Mbarara High school including free transport and admitting our children. The two schools have got a lot in historical ties.

Nickson Nowembabazi 4 Arts head prefect Mbarara High school: Long ago people used to know Mbarara High school as a chaotic. However, today the school is one of the most peaceful schools in the country with the highest record of academic perfomance. We have good teachers. They are like our parents and that's why there is no big gap between us and them.

Notable alumni
Yoweri Kaguta Museveni- President-elect of Uganda
Lt. Col. Bright Rwamirama-minister of state for animal husbandry
Amanya Mushega, Former Secretary general of the East African Community
Elly Tumwine; Former Commander of the Army in Uganda (1986-1989) and a Member of Parliament representing UPDF

Fred Ruhindi-Attorney General
Sam Kutesa-Minister of external affairs
Ambassador Robert Rukaari


Dr. Asuman Lukwago-Permanent Secretary. Ministry of health

Dr. Medard Bitekyerezo-MP Mbarara Municipality
Michael Tusiime-MP-elect Mbarara Municipality

John Kigyagi-Former MP Mbarara Municipality and Vice Chairman EC NRM
Bishop Nathan Ahimbisibwe-Bishop of South Ankole Diocese


Bishop Yonah Katonene-Bishop of West Ankole Diocese

Andrew Mwenda- A popular journalist and founder of the Independent Magazine