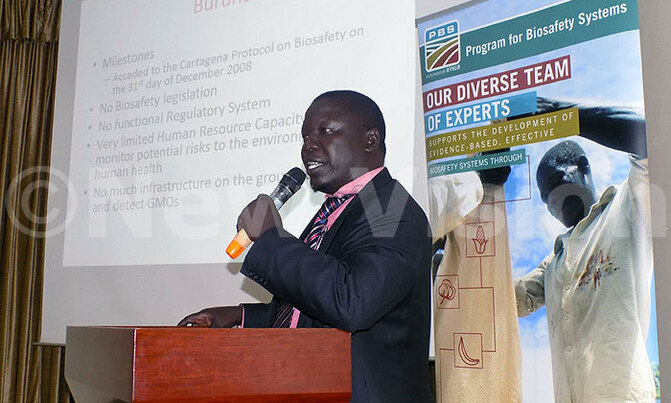 "Our scientists have scored high in this field. We move with our heads high."
KAMPALA - Sunday Akile, the programme officer for legal and policy biosafety at the African Biosafety Network of Expertise (ABNE), has lauded Ugandan scientists doing research on biotechnology.

ABNE is an institution of the New Partnership for Africa's Development (NEPAD).

"Our scientists have scored high in this field. We move with our heads high," he told participants attending the Open Forum on Agricultural Biotechnology (OFAB) at Hotel Royale on Thursday.

Akile was presenting a paper titled Regulatory Status of Biotechnology Applications in the East Africa Community.

ABNE is involved in building capacity of national and institutional biosafety institutions across the continent.

He said that though Uganda had made strides in biotechnology research, the research had stagnated due to lack of a law.

The National Biotechnology and Biosafety Bill 2012 - meant to regulate biotechnology - is still under debate in parliament.

Phyllis Chemutai, Woman MP for Kapchorwa district called on parliament to pass the bill before end of term of the current parliament. She said the bill will help scientists address agricultural challenges of climate change and food insecurity.

Dr Theresa Ssengoobe, a member of the National Agricultural Research Organisation Council, said the bill would allow us pick out what helps us and leave out what is not useful.

She cited Kenya which banned the introduction of Bt maize but has allowed testing of Water Efficient Maize for Africa (WEMA) maize. Both are genetically modified products.

"We want a system that allows us to go with what benefits us and leave out what does not benefit us," said Ssengoobe.

Uganda is currently undertaking confined field trials: The crops include bananas, cassava, maize, rice and potatoes.

The National Agricultural Research Laboratories, Kawanda has bred a banana resistant to banana bacterial wilt while the National Crops Resources Research Institute, Namulonge has successfully bred a cassava resistant to Cassava Brown Streak Disease. The two are Uganda's staple food.