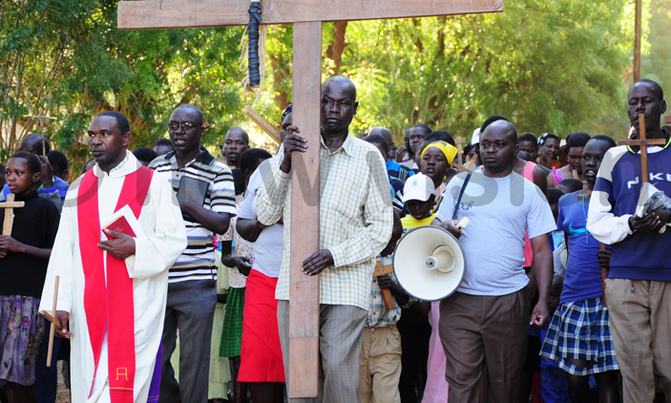 The event is aimed at commemorating Jesus Christ's suffering on the cross
On Friday morning, thousands of Christians are expected to participate in the Way of the Cross, a yearly ecumenical event organised by the Uganda Joint Christian Council, aimed at bringing together the followers of the Catholic Church, the Orthodox Church and the Church of Uganda.
The event is aimed at commemorating Jesus Christ's suffering on the cross for the sins committed by mankind at Cavalry during his incarnation.
Rev. Fr. Dr. Silvester Arinaitwe Rwomukubwe, the Executive Secretary of the UJCC has called on all Christians that after going through the Lenten period of purification they should join the Lord and Master in His special mission of service.
He said UJCC resolved that for this year 2016 all their activities would evolve on one single theme: "Striving for greatness through servanthood: the Cross, the greatest demonstration of Servanthood".
He reminded the Christians of the message of Jesus Christ which he said was clear from the very beginning of his mission thus; "For even the son of man came not to be served but to serve others and to give his life as a ransom for many.
Fr Rwomukubwe also reminded the Christians of UJCC's leaders Pastoral message of November 2015 in which they reminded the Christians that the citizens of this country, have a common obligation to steer the country on the path of unity and stability in order to guarantee peace and sustainable development, a fact that should inform the action and conduct of every stakeholder".
He said, "our unity is in diversity and that is our strength. Quality education and good teachers are benchmarks for a developing country. Let us invest in them remembering that my opponent in politics is not my enemy. We can work together for the development of our motherland Uganda."
Meanwhile, the UJCC has issued routes and starting points from where the different congregations would follow as they participate in the way of the cross leading to Nakivubo War Memorial Stadium where they are scheduled to finally converge for a common service.
The routes are categorized as Northern with starting points at St Luke's Church of Uganda, Catholic Parish- Kigoowa, St Charles Lwanga - Ntinda, St Andrews (COU) and Holy Trinity - Bukoto. St John's COU, Kamwokya and St James COU Kifumbira.
Our Lady of the Sick- Mulago, St Paul COU Wandegeya, St Stephen's COU - Mpereerwe and St Luke COU.
Kanyanya St Nicholas COU Kalerwe, St John the Baptist Catholic Parish, Makerere St Peter's COU Wandegeya. Jinja Karoli Parish, Maganjo COU, St Peter's COU Lugoba, Kawempe COU, St James COU, Bwayise/Kazo COU, St Philip's COU Kyebando, St Paul's, Kyebando and St Kizito Catholic Parish.
St John's COU, St Noah COU, Makerere West, St Augustine's Chapel, Makerere, St Francis Chapel, Makerere, Holy Trinity COU Makerere-Kivvulu, The Bible Society of Uganda, St Luke's Chapel, St Joseph's Chapel and Mulago School of Nursing and Midwifery.
Western Routes include St Nicholas Orthodox Parish Namungoona, Our Lady of Fatima Catholic Parish, Nakulabye, St Thomas COU Parish Nansana, St Joseph's Catholic Parish Nansana, St Andrew's COU Kasubi, Scripture Union Uganda, Namirembe Cathedral and St Matia Mulumba, Old Kampala.St Andera kaggwa Catholic Church -Masanafu and School for the Deaf - Namirembe.
The other starting points are Masanafu COU, Lubgujja - Kitongi COU, Mengo Hospital Nursing School, St Mapeera Catholic Church, Lubaga Cathedral, St James Mengo Kisenyi COU, St Balikuddembe Catholic Parish, Lubaga Hospital Nursing School, Uganda Martyrs COU, Busega.
Southern Route: Nsambya Catholic Parish, Our Lady of Mount Carmel, Kansanga, Kansanga COU, Ggaba Catholic Parish, Ggaba COU, Kawuku COU, KIU Catholic Chaplaincy, Ggaba TTC, Nsambya Scholl of Nursing, Kampala University, COU Chaplaincy, Kampala University Catholic Chaplaincy and St Janani Luwumu COU, Kabalagala, St John's Catholic ChurchKisugu and Apollo Kivebulaaya COU.
The other are: Ndeeba Catholic Parish, Namasuba COU, Namasuba Catholic Parish, Mackay COU Ndeeba, St Andrew's Catholic Shrine - Ndeeba, St Lukes COU, Makindye, St Sophia Orthodox Church, St Agnes Catholic Parish, Uganda Martyrs COU, Katwe, St Stephen's COU, Kitala.
Eastern Route: St peter's COU, Nagulu, St Jude Catholic Parish, Kakumba Chapel, Kyambogo, Kyambogo Catholic Chaplaincy, Bweyogerere Catholic Parish, St James Chapel, MUBS, Catholic Chapel MUBS, Our Lady of Africa, Mbuya, FOCOLARE COTR -Bugoloobi COU, St John's , COU Luzira, St John's Chapel Luzira, Bbiina Catholic Parish, St Luke's Chapel COU, Butabika, St John's COU, Kitintale, Christ Community Church - Mutungo.